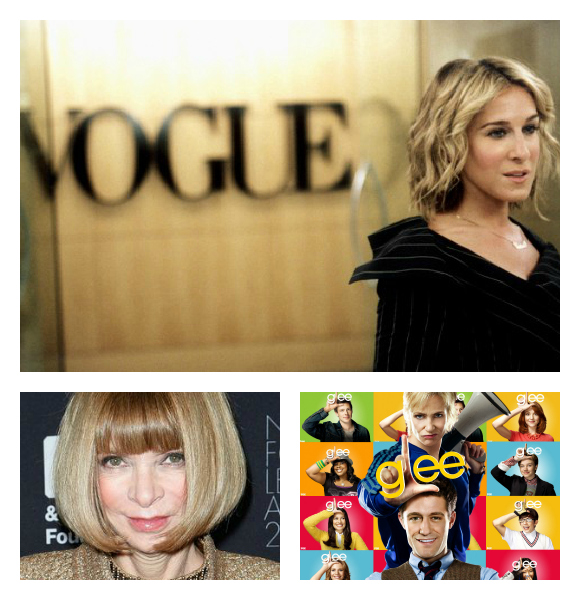 If, like myself, you have watched every episode of Sex and The City and Glee, I advise you to hold onto your office chair: the two are (sort of) becoming one!
This week, the brains behind Glee – Ryan Murphy – announced that Sarah Jessica Parker will guest star in a few episodes of the musical wunderkind next season. Not only that, but she will be playing a "sort of frazzled, eccentric and hilarious" Vogue.com editor!
It screams for the re-introduction of Carrie Bradshaw. SATC fans will remember when Carrie strutted into the Vogue offices – where she was getting paid 50 cents a word (yes, I'm obsessed) – in an asymmettical pinstripe suit from Vivienne Westwood to meet a Vogue Editor/Wintour clone played by Candice Bergen. It is barely a storyline stretch!
Speaking of Anna Wintour, the ice queen herself has been employed to style the wardrobe of Sarah Jessica Parker's fictional Glee character. I can only expect this is an incredible favour to Anna's daughter, Bee Shaffer, who works for the company that produces the show. It couldn't get any more fash-fabulous.
The most excited of my creative juices are flowing. You're welcome to any of the plot ideas below, Glee writers. You're ever so welcome.
1. Rachel is sent to the Vogue offices for a make-over.
Say goodbye to your knee-highs and pre-school silhouettes, Miss Berry. You're now in New York City. Ditch the loafers for Louboutins at the hand of a tutu-wearing fashionista.
2. Santana starts a fashion blog.
To stay in touch with her lady love, Santana starts a blog that is catapulted to international fame. Vogue tries to poach her for their online site. Many musical numbers about life's crazy twists and turns ensue.
3. Rachel falls in love with Aidan.
Without annoyingly righteous boyfriend Finn by her side, Rachel looks for a similarly small-town homeboy to lust over. The pair bond over a mahogany harp.
4. Mercedes starts a plus-sized riot.
Enraged by the body standards in her September issue, Mercedes flees to New York with the Vogue offices as her target. Who else, in particular, but the pint-sized dot-com Editor? Carrie shall wax lyrical about sample sizes and everyone shall sing songs about being beautiful.
5. Kurt Hummel is Carrie Bradshaw's assistant.
He falls in friendship lust with her and Stanford, therefore introduces millions of conservative American homes to the fabulous lives of metropolitan homosexuals.