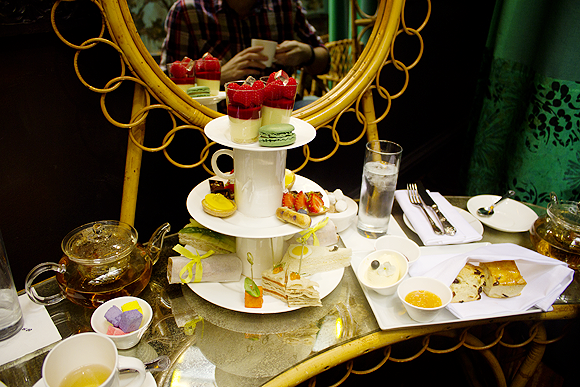 If you're looking for an experiential afternoon tea in London, Sketchis your best bet. Though the downward dog who marks the restaurant on Conduit Street may be quirky, he (she?) is no match for the Wonderland inside.
Though there is an impeccable Gallery that hosts dinner service, the afternoon tea experience is set in a gothic indoor garden at the side. As someone who delights in aesthetic detail, the room was bewitching. Dramatically tall curtains separate the room from the rest of the venue, where the attention to detail drew me in: Victorian wall friezes, a chandelier of twisted branches, rotating mirrors that dance lights around the room….all this, and we haven't even touched the food yet.
The Manfriend and I took our seats at a quaint corner table which faced a mirror. The 'hidden' concept worked fabulously for a date, as you could face the angled mirror and get a perfect view of your dining partner while sitting by their side. Intimate and – like everything, down to the menu being filled with illustrations from the 1902 Sears Roebuck catalogue – fantastically romantic.
After receiving two pots of flowering osmanthus tea, the main attraction made its entrance: three tiers of sweet and savoury culinary delights. The customary English scones were placed on a separate plate alongside a small pot of violet and bubblegum-flavoured marshmallows. Both 'extras' were indeed delicious, but only a small victory in a feast consisting of gold leaf-topped salted chocolate caramels, chill-sauced goat's cheese, an incredible egg/quail egg/caviar sandwich, yuzu and macadamia tartlets, earl grey macarons, and much more. You could see my tummy smiling.
As a full experience, I would do it again in a heartbeat. The Manfriend, who has an aversion to seafood, would be apprehensive due to the lack of more neutral sandwich options. That is, of course, personal taste.
Oddly enough, I have to mention the bathroom before wrapping up the review. Trying to find it, I thought I was lost in what initially looks like a set from Space Odyssey. In actuality, a unisex room filled with egg-shaped pods and rainbow-hued stained glass is Sketch's version of a powder room. If anything, it certainly gets points for originality. Much like the entire afternoon.