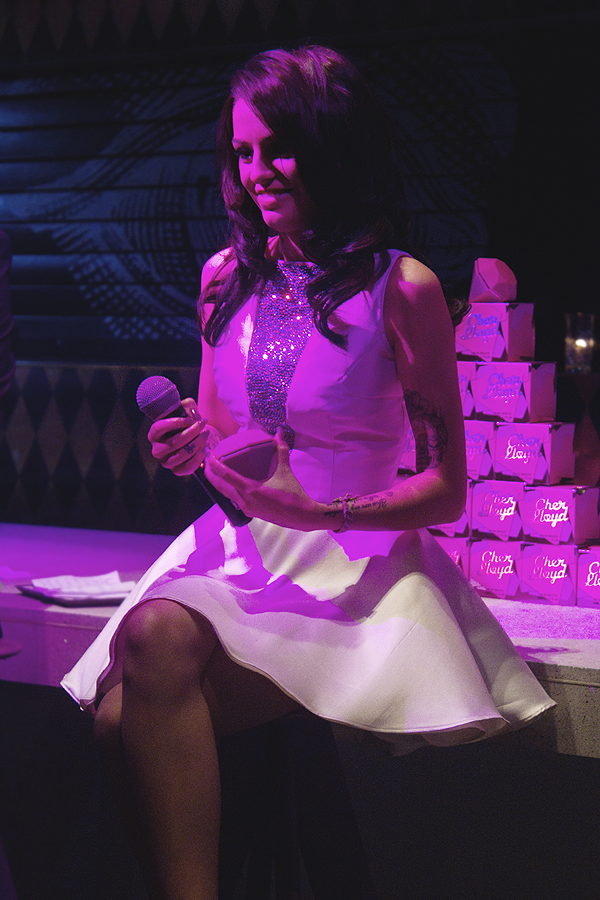 Though you are most likely to think of Cher Lloyd with "X Factor" connotations, the simple fact that this nineteen-year-old just went platinum in America sets her far apart from most of the 'X' crowd. On my way to meet the teenager at the launch of her fragrance "Pink Diamond", I was categorically intrigued and had no clue what to expect.
I was pleasantly surprised. Faced with a swarm of early-to-rise paparazzi outside the venue itself, Cher waltzed in like an old pro, wearing an exaggerated and sequin-embellished skater dress; she even invited a few of her superfans (aka 'Brats') to spend the morning with her after spotting them waiting outside to see her in the flesh. There was no way you couldn't be charmed.
She was – as you would expect – very excited. Talking through the fragrance, Lloyd explained that the scent was created with a vanilla base because every perfume she had ever worn was consistently vanilla-based. To 'Cher' the fragrance up a bit, she added a mix of white chocolate, kiwi, vanilla pod, orchid and golden quince. The final product is a confident and sweet fragrance reminiscent of Britney Spears' Fantasy (minus the musk). I found the orchid in the fragrance very overpowering in the first hour of wear, yet adore the soft and fruity perfume once settled on the skin.
If you're looking for a bit of vanity candy and love a youthful scent, head on over to The Fragrance Shop for a sniff!