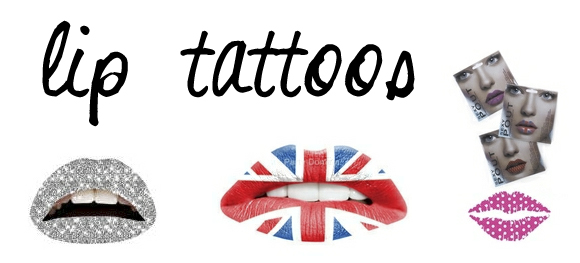 During LFW Spring/Summer 2012, temporary lip tattoos dominated as a street style beauty trend – cheetah prints, stripes, and ombre styles galore. While lip tattoos are certainly nothing new, they are moving towards the mainstream and today was the first day I tried my hand at them.
I learned a few things:
Even if the pack recommends you cut the design to the shape of your lips, don't. It is easier to clean up 'extra lip' than it is to get the design to spread to other areas (see below!)
Let the water SOAK on the non-product side of the lip applique. If you remove it too early, there is no way to achieve your desired look besides starting with a new pack.
To clean up edges, dip a Q-tip in baby oil and apply to edges/excess product.
If you avoid extra lip products and greasy food, these suckers don't move. All day. I am confident they are the longest lasting "lipstick" around, next to permanent cosmetic make-up.
The lip tattoos above (L-R): Violent Lips silver glitter, Union Jack "Passion" lips, and Stargazer – "pink dots sexy pout".