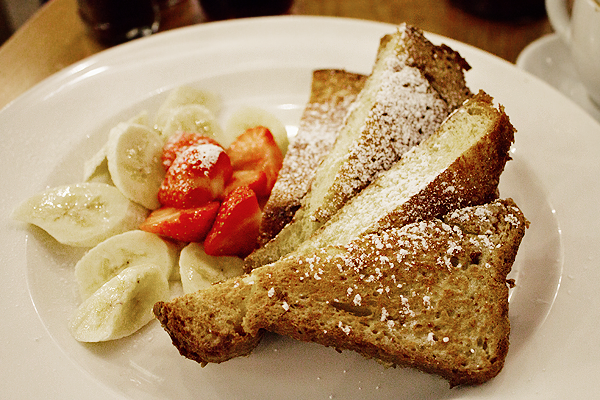 Balans is one of those great chain restaurants – unlike Jamie's Italian or Nandos – that can still lure me in despite having the growth of a very strong brand. Based both in London and Miami, their UK branches include Bluewater, Soho (twice; one of which is open 24 hours), Earls Court, Kensington, Westfield Stratford City and this past Saturday's choice, Westfield London.
Itching for some caffeine and a catch-up with a dear ladyfriend in the presence of eggs, Balans Westfield London had brunch written all over it.
While my partner in protein-filled crime opted for Balans Jumbo Breakfast (two free range eggs, bacon sausage, potatoes, toast, an American pancake with fruit), I mixed their moreish fruit-garnished cinnamon French Toast plate with the answer to my weeklong craving for Eggs Benedict and smoked salmon (single-serving, or I would have popped). The reliability of Balans is undeniable; their food is delicious, affordable, and the service you are given is attentive with a permasmile.
Deciding to grab a breakfast tipple and move to people-watch in their al fresco area (heated, thank foodness), we sampled their new Red Ribbon cocktail. Created to mark and support World AIDS Day on the 1st of December, master mixologists have combined a splash of Chase vodka (the world's first super premium English potato vodka) with fresh raspberry purée, vanilla syrup, and a side shot of champagne. The Red Ribbon cocktail will be available from now until Sunday the 2nd of December and Balans are donating 100% of the profits to the Elton John AIDS Foundation, so you now have no excuse not to get a little tipsy at breakfast.