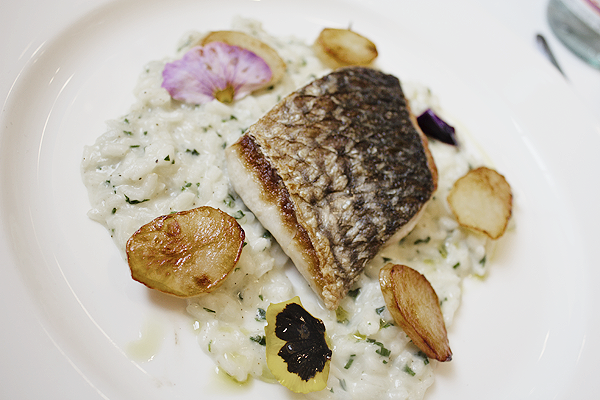 Though I love a bit of restaurant hopping, I do have a few London gems that I return to again and again. Diamond in the not-so-rough? Bond and Brook in Fenwick. Though I typically use it as a meeting place for its great coffee, light bites, and omnipresence of one of the most charming waitresses in Central London (Maria), I ventured into the full-on menu last week.
After making our ever-so-important beverage choices from a great wine list, my friend and I decided to order from two separate menus. While I selected two courses from a set menu, my accomplice opted for four dishes from the Bond & Brook Collection (generous tapas-style dishes; three for £17 or £6.50 each).
Starting with a veloute of Butternut Squash & Ginger with Salpicon and Herb Cream Cheese, the textural impact of my meal was orchestrated perfectly. With a chemistry set-like mix of flavours and the weight of the butter behind it, the starter was impactful on its own, but a drop in the water of an artichoke risotto lake holding Seared Grey Mullet and Chicory. Flavour-packed, fresh, and grilled to finish, you simply could not fault the dish.
My friend's tapas dishes arrived two at a time (their choice) starting with shallow-fried Halloumi Cheese with Kalamata olives, tomato, white grape, and basil salsa, as well as Brixham white crab arancini with vanilla and lime mayonnaise that was perfectly light and delicate, with a microscopically thin veneer of golden crisp on the outer. Shortly thereafter came a Globe artichoke barigoule salad with beets, cabernet sauvignon, tarragon, and orange that was reported as 'pleasant enough', leading to a Carpaccio of scotch beef fillet – almost ethereal in its substance – with Celeriac Panna Cotta and Walnuts.
Finishing with double espressos and a selection of their desserts, we both fell head over heels for the basil sorbet (who knew such a flavour would attack my heart strings!) paired with their classic lemon brulee tart. And yes, we had to be rolled out.