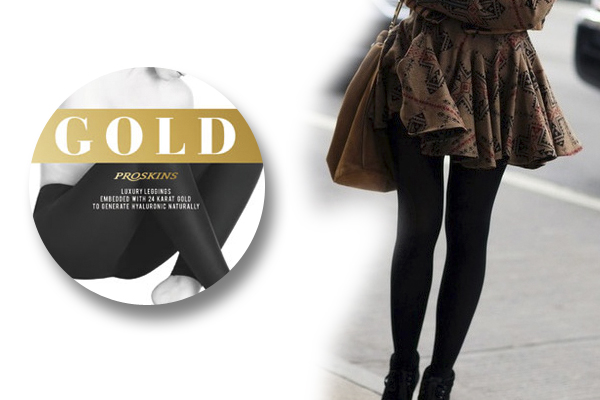 You've got to hear me out on this one, beauties: these are anti-ageing leggings that deliver. Proskins may be known for their 'suck it in' leggings and sportwear but their upcoming release – Proskins Gold – delivers much more. At first glance, they look like an upmarket black legging; smooth, supple, and stretchy with a comfortable wide-band waist.
Obviously, that alone is not going to justify a £145 price tag.
What makes that £145 price tag rather bargainous, in fact? That would be the addition of 24 Carat gold particles and hyaluronic acid. While the controlled compression of Proskins help the body to flush out toxins and cellulite, the gold nanoparticles naturally generate hyaluronic acid which provides intense hydration for legs and helps to contour and improve the appearance of problem areas.
After three days of wear (which – thank goodness – is a fashion statement) Proskins Gold achieves and maintains 100% hyaluronic acid synthesis efficacy (layman's terms: your legs anti-age themselves!) while the moisturising and antioxidant benefits continue for up to two days after you stop wearing them.
When I was chatting to the creators of the product, my number one reservation was the longevity of the product. Surely – like other 'caffeinated' leggings – the gold would simply wash out? Not the case. Those hyaluronic acid-producing particles are actually woven into the legging's yarn which means that you will see results for the lifetime of the legging. Because of an additional moisture management system, Proskins Gold leggings also keep your skin dry and body temperature regulated to 37°C, making them fantastic for use during exercise.
The new leggings will be available online at the end of January: http://www.proskins.co/store/en/