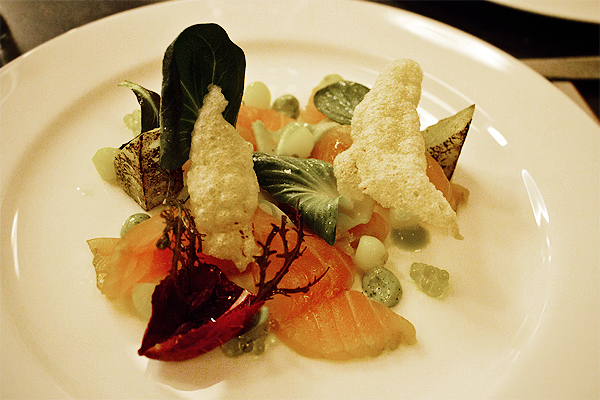 Though Hotel Café Royal has been something of an institution for London's big hitters for over one-hundred years, a complete overhaul of the space siren-sung me into checking out the hotel's renovated culinary scene. First, Ten Room, their all-day brasserie.
Occupying what I expect was Café Royal's former lobby, Ten Room has been reworked as a double-height foyer with spacious tables and red banquettes scattered underneath a palatial mezzanine balcony. Expressing 'Café Royal's transition from its famed past to its cosmopolitan present', executive chef Andrew Turner (Wilton's) has created an extensive menu of brasserie bests mixed with a few flourishes of razzle dazzle.
Settled in with my lovely lady friend, we were welcomed by a delightful amuse bouche of mushroom ravioli veloutée with truffle oil before deciding on two very different starters. In my corner, a very generously-sized terrine of duck Foie Gras with white grape chutney and rocket (£15) served alongside a slice of toasted brioche. In hers, Loch Duart salmon – cured – with pickled cucumber and ginger (£9). Both dishes were faultless, simple, and refined in the way a starter should be.
Unfortunately, one of our mains did not cut the gravy. My dining companion fared better than myself, ordering a salt-cured shoulder of English lamb with sweetbreads, onions, Paris mushrooms and thyme from lunch menu; one of the most understated and piquant balances of lamb on any plate I have been served in London. For my own main, I ordered veal cutlet Holstein with capers, anchovies and soy beurre noisette thinking that a little something special would be added to the old-fashioned dish to justify its £27 price tag. There wasn't. While the dish was not bad, per se, there was very little fat (if any) trimmed from the veal itself which made the Holstein, everything considered, too stodgy to warrant a thumbs up.
Be that as it may, the dessert selection confirmed my speculations; the Holstein is a blip on an otherwise remarkable radar. After a small taster of their devilishly sweet brown sugar tart, we ordered their moelleux of Amedei chocolate with caramelised milk ice cream (exemplary at £8) and a coconut sorbet – served as a coconut itself – alongside roasted king pineapple with chilli and rum (£7) which wowed with the most impossibly spirited flavour mash-up.
Ending with petits fours secs (macarons!), glacés (salted caramel!) and tea, I found myself eager to return to the Ten Room in the coming weeks. In this case, one less-than-stellar dish has lost them no brownie points.