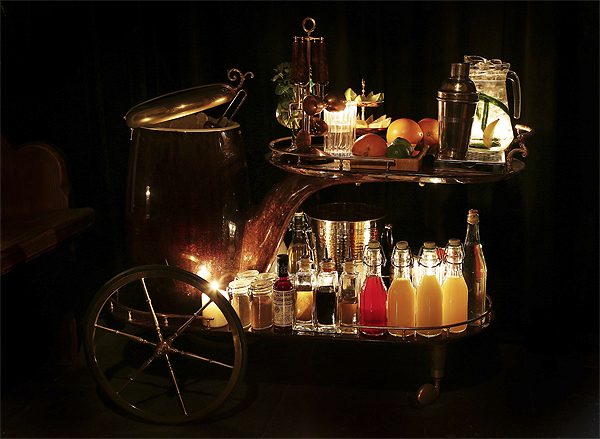 I usually skip out on the whole 'bring your own' concept when dining out. Though it is certainly an advantage for a certain type of drinker, I am a creature of cocktailing habit…and not of the pre-mixed variety.
Hashtag DRINKSNOB.
Of course, London once again wove its magical wand and brought us a drinking concept to cater to even the most neurotic drinkers; B.Y.O.C. A bar hidden through a secret door behind the counter of the Bedfordbury Street Juice Club and…a bar with no alcohol. No, no – don't click away just yet! B.Y.O.C. has a great thing going here. Lacking a liquor license, patrons of B.Y.O.C. are encouraged to bring along a spirit (or spirits) of their choice, traipse down into the speakeasy-esque subterranean bar space and enjoy an intimate night out as an expert mixologist creates the cocktails of their dreams.
Reservations earn you two hours of service from Dan Thomson and his antique Italian drinks trolley, armed with an arsenal of cordials, fruits, spices, herbs, bitters, and more. Being seated under hanging glassware and surrounded solely by candlelight, B.Y.O.C. has a definite 'secret' appeal that is only heightened by the smell of leather-bound books and sounds from a gramophone.
Because the bar seats only 18 people at any given time (a maximum of 6 at the largest table), reservations have already filled up months in advance. They do operate an extremely long waiting list for cancellations, but your best bet is stalking their Twitter – @BYOCLondon – for last minute cancellations if you're not planning your nights out months in advance.