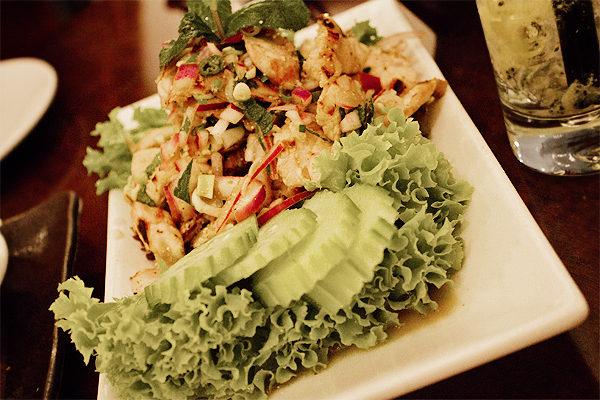 Despite being on 'The List' for over three years, my first visit to London's well-renowned Thai favourite Mango Tree only took place last week. Boy, have I been missing out.
Not since living in Bangkok have I had such a pleasing array of authentic Thai dishes. A stone's throw from Buckingham Palace, nonetheless. My aesthetic eye quickly realised that Feng-Shui ruled the design process for Mango Tree, resulting in a timeless, beautifully lit and carefully-considered hideaway to dine for any occasion (or, in my case, non-occasion).
With incredible service from the first Sawadee ka (a pre-meditated nod to Thai traditions), the meal was a string of exemplary flavour and care. Flipping through the gargantuan menu over a Love Ocean (ketel one vodka, lavande syrup, passion fruit syrup, fresh lychee and dragon fruit, lychee juice, and fresh passion fruit juice) and a Thai Martini (wyborowa vodka, gabriel boudier lychee liqueur, fresh lemon grass, thai red chili, lychee fruit, and sugar syrup), an extensive and creative vegetarian menu almost pulled me out of my meat-eating ways…
…until I spotted Poonim yum mamuang. The starter – a tempura of soft shell crab with and sweet chilli sauce – is one of simplistic glory if executed in the right way. Thankfully, Mango Tree's version was lightly battered perfection and the perfect introduction to the meal. Alongside a starter of Moo nam tok (a spicy north-eastern thai-style salad with sliced grilled pork mixed with dried chilli, shallots, mint leaves and a spicy lime sauce), my tongue was officially alight.
For mains, both my dining partner and I had the desire to see where their 'traditional' dishes would stand against experience. First choosing a first rate super-seasoned Ka pow gai (a spicy dish with stir-fried corn-fed chicken fillets, fresh chilli, garlic and holy basil leaves), we then opted for Pad thai goong yai. Unlike the bastardized versions of 'Pad Thai' that litter the Great British High Street, these thai rice noodles had been stir-fried with corn-fed chicken, chinese chives, peanuts, bean curd and beansprouts in a special homemade sauce, and were served topped with an egg net. Far too much food for me to handle, but far too great a taste for me not to attempt a plate-cleaning.
Having been defeated halfway through the Goong Yai, we had to take a short recovery break before giving in to the dessert menu. As I have mentioned in previous reviews, Asian desserts are not my thing. For this fact, it seemed to be fate that the only two things that could get me to order an Asian dessert were on the menu: Kow niew mamuang and Sang ka ya mamuang.
Sang ka ya mamuang – a mango creme brulee with pistachio biscotti – was delightful for the one or two bites I trialled but, in all honesty, my full focus was on Kow niew mamuang. Mango sticky rice means to me what Vita Coco (ahem, apparently) means to Rihanna. Mango Tree's version, blended with honey and served with coconut milk and dry ice, was the most decadent I have ever tasted.
You know a restaurant has won you over when you start waxing lyrical about fruit and rice.