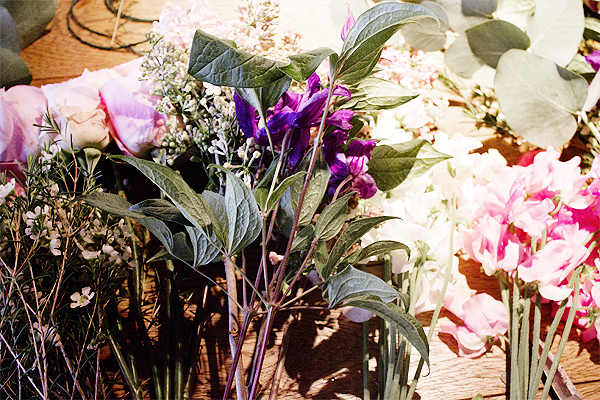 Before last week, if anyone had suggested that I would ever find myself taking a floral masterclass I would have painted them crazy.
I didn't 'get' flowers before taking a 'Lunch in Bloom' at Tom Aikens. (Trust Tom Aikens to change my mind about anything…)
Having teemed up with London florist Nikki Tibbles (of the incredibly successful Wild at Heart – you'll know 'em from their Liberty concession), Tom Aikens Restaurant have introduced a RHS Chelsea Flower Show-themed masterclass and lunch menu that could/did titillate the most florally unappreciative around London.
Though the RHS Chelsea Flower Show doesn't take place until the 21st-25th May, Tom Aikens will dedicate the entire month of May to expert-led bouquet building classes and a mind-blowing Michelin starred floral menu which incorporates edible seasonal flowers.
After fuelling up on Tom's moreish pastries, the two hour masterclass of tips and tricks flew by in a haze of colour, smell, and a big realisation that my talents do not lie in bouquet building. Nonetheless, I was enamoured by Miss Tibbles and her floral expertise; thanks to her tips, I even ended up with a bouquet I was proud enough to give to a friend later in the day.
That was, of course, after inhaling a sensational three course menu. To start; confit of Loch Duart salmon with viola, violet flowers and pickled endive. To continue your high; poached chicken with marigolds, lemon puree and vanilla oil. To tease you into thinking it might be worth quitting your job and finding a way to get a Tom Aikens staff discount; a dessert of rose poached strawberries, aerated sorbet and mint syrup.
The 'Lunch in Bloom' package cost £120 per person and includes:
• The two-hour masterclass with Wild at Heart
• A bouquet to take home
• Morning coffee and pastries
• Welcome cocktail or a glass of champagne
• 3 course set lunch menu (matching wines are available on request)
• Mineral water and a choice of coffee or tea as a digestif
To book a place at one of scheduled masterclasses or to make a reservation at the restaurant, please contact the reservations department at Tom Aikens Restaurant on 020-7584 2003. You won't be sorry.