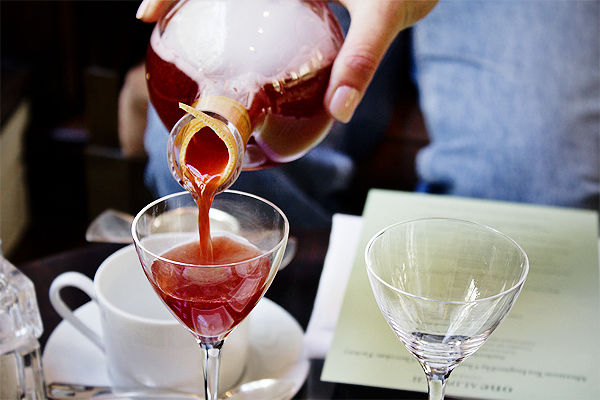 To mark the world premiere stage musical of Charlie and the Chocolate Factory at Theatre Royal Drury Lane, our friends at One Aldwych have created an Afternoon Tea inspired by the story and kindly invited me along to be the first to sample their bouquet of contemporary sweet treats.
Kicking things off with a dry ice-smoking beaker of Cocktail Charlie (Dalmore whisky mixed with Grand Marnier Cherry, chocolate bitters, grapefruit juice, cherry syrup, and champagne), it took no time at all to be presented with the introductory plate of sandwiches and savouries. The personal highlight of the so-called starters came as a bountiful serving of cured smoked salmon and lemon mayonnaise on top of rye, though the roast beef and horseradish sandwich on onion bread and leek and stilton quiche thoroughly pleased my male companion.
Deciding to switch to tea before we Dalmore-d ourselves into oblivion, we requested a pot of Midsummer Mango (sunflower blossoms with real mango pieces) and Smooth Caramel (black tea with caramel chunks and a hint of vanilla) before taking on the beautifully arranged plate of confection you see above.
Like all good afternoon teas, One Aldwych's features warm scones (served with summer berry jam, apple and meadowsweet compote, and Devonshire clotted cream). These arrive in a basket alongside an obsession-forming blueberry brioche and a Cocoa bean financier; the Charlie and the Chocolate Factory touch. On a tiered slab at the side you take possession of chocolate caramel milk, a mini Eton mess, and 'Golden egg' filled with vanilla cheesecake and mango puree which are all accented by multi-flavoured homemade candyfloss. The kind of gluttony even Veruca Salt would appreciate.
(The afternoon tea is £29.50 per person/£38.00 per person including a glass of Louis Roederer Champagne or a Cocktail Charlie. Click here to book!)