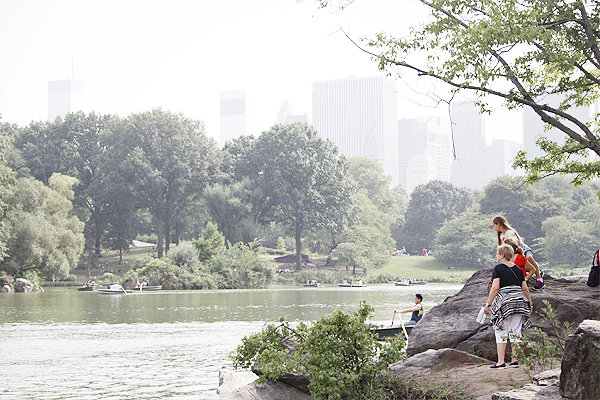 The final stop on our US road trip? My heart and soul, New York City. There is no greater excitement than getting the opportunity to introduce something you love to someone you love, is there?
After a mini medical emergency we, undesirably, hit the city in rush hour and therefore returned our rental car at the speed of light. A quick taxi to the Uptown border of Central Park let us get settled into our fifth-floor walkup (the secret to the bodies of the F.R.I.E.N.D.S. cast, obvs) and freshen up before a nightly stroll through Harlem. As you do. (Disclaimer: the FOOOOOOD.)
Waking up the following morning, we decided to get our tourist on and visit the Empire State Building. I have never been too fussed to visit – always preferring to explore a city rather than explore a city's queues – but an early wake-up call and two free tickets fated a visit. Truth be told, it was spectacular. Getting there when it opens gives you virtually no waiting time as well as plenty of room to move around at the top deck and take Manhattan in from every angle.
Taking a few wrong turns on our way to lunch led us to the happiest of accidents: Energy Kitchen. Heads up, London franchisers, this ridiculously healthy chain has an excellent menu of 500-calorie-or-less meals and treats which, in its simplicity, has a consistent stream of dedicated, fit customers. A fast food revelation in the city of cronuts and ramen burgers (and, if you're single, a hotspot of babes and manbabes).
Spending the rest of the day on a shopping-slash-walking tour of the island, we rested our punished bodies with an evening at Spider-Man: Turn Off The Dark. It may not be the most Broadwaaaaay of Broadway shows, but my nerdy inner fangirl loved every minute. Reeve Carney and co. bring the (slightly altered) story to life with flumes of talent and some of the most interesting art direction in theatre this millenium.
Morning two? Back to hidden food gems in Harlem to taste my first ever Chicken and Waffles. In my opinion, if you're going to try a new food you might as well go for the option that The Food Network holds in highest regards. Melba's Southern Fried Chicken and Eggnog Waffles is that dish. Though the restaurant itself is small, the atmosphere is friendly – celebratory almost – and the food is intensely delicious. Somehow, soaking her chicken in mustard and buttermilk gives Melba the edge on virtually any piece of poultry I have tasted. Mouth-melting goodness, I tell you.
As expected, Alex (who made the daring choice to order an even-heavier Smothered Chicken with Waffles) and I were in a food coma. Wanting to take it easy before an adrenaline-pumping evening in New Jersey, we opted to spend the rest of the afternoon exploring the Museum of Natural History at a snails pace and find as many hidden spots to canoodle in Central Park as we possibly could. Whether you live in the city or are planning your first visit, I cannot recommend wedding-watching in Central Park highly enough. As the most beautiful nature spot in a relatively non-green city, the weekend draws brides and wedding photographers to the Park in force. It is like watching a live action wedding blog.
For a complete change of pace in the evening, we PATHed it to Newark to watch the New York Red Bulls destroy DC United. In comparison to football (British), US soccer has an atmosphere of pantomime – even with big guns like Tim Cahill and Thierry Henry on the field. Though, strangely, it was much more of a production than I expected from my favourite sport, the fan camaraderie and ability to buy Red Bull cheaper than water made for a hilarious evening.
The following morning we cured our football hangover with brunch at The 5 and Diamond (bourbon fried chicken and waffles with banana habanero syrup, natch) and went back to pack our US road trip memories away before night-flighting back to London.
Viva America.