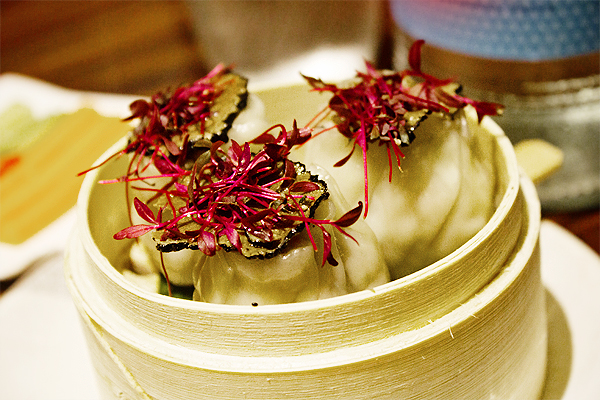 When a fellow food critic alluded to new dim sum hot spot Bo Lang becoming a baby Hakkasan, the restaurant shot straight to the top of my to-do list.
Homegirl loves her some dim sum.
Moonlighting as a Chinese tea house, Bo Lang is as stylish and intimate as a dumpling fanatic would hope. Though I imagine the thin slice of South Kensington could feel slightly claustrophobic for large parties, its wooden screens and charcoal chairs create intimate spaces for dates and one-on-ones.
Committed to trying as many new things as possible (dim sum law), we opted for a bottle of their sparkling peach sake, Aragoshi Momo-Shu, which was a tad cloying. Though not unpleasant, it did no favours for our first plates of dim sum and would be better suited for dessert.
After learning that three of the mains we wanted to order were unavailable, we put the pressure on some sharing plates. Thankfully, the dim sum rocked our world. Sharing threesomes of saffron cod dumplings and chicken shu mai with black truffle (the mahatma), each bite and a half was bulked up with crowd-pleasing pieces of crispy Sichuan pepper squid. Mouthgasms abounded.
Forking our way through two salads – crispy aromatic duck salad being the bare-boned preference – we couldn't help but develop a wanton appetite for more dim sum. With such moreish and avant garde choices on offer, your money is going to feel wasted diverting from the strength of Bo Lang's (and Master Kai Wang's) 10 years of dim sum expertise.
When it came time for dessert, the offer of black sesame ice cream under the 'ice cream and sorbet selection' was reason enough. Going at it like wolves, we were surprised and enchanted by the luscious pairing of smooth sesame with pistachio and rose sorbet.
Any Londoner would be crazy to give Bo Lang a miss, but my advice will serve you well:
Stuff yourself with dim sum alone, save the sparkling sake 'til the end of your meal, and be sure to save space for a little slice of sorbet heaven.