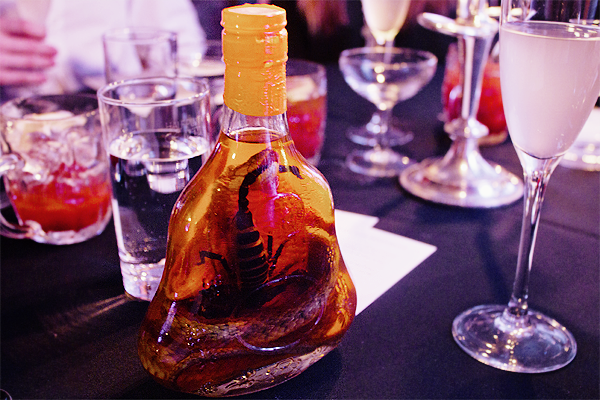 In the ultimate act of bravery – or recklessness – I decided to chow down on some of world's most dangerous (read: killer) foods last week.
To be honest, the idea of 'deadly' pop-up restaurant Cafe de Mort really didn't phase me until being asked to sign a waiver before being handed a welcome drink topped with absinthe. With my culinary partner in crime (the fabulous Elsa Messi) at my side, we threw down our drinks, kept calm, and carried on. A taste of Fugu would be worth it.
Settling into the crypt of St Andrews Church, guests had the opportunity to look over the 5-course menu of (hopefully) death-defying dishes. After Fugu, the lethal Pufferfish, one of the most interesting and tremble-inducing ingredients used had to be Ghost Chilli – officially the world's hottest chilli – which had thankfully been used sparingly in an incredible curried Ackee pattie, served with Bloody Hell Marys (hello, moonshine) which were outlawed in the 1600s thanks to moonshine's ability to cause blindness.
Yes, blindness.
If that didn't tempt fate enough, each course was presented with a tipple of its own. The Kluwak nut pasta (cyanide haters, state your dietary requirements!) with false morels was paired with the absolute best/worst of them all: snake wine. To paint a scene that the accompanying photo may not be able to, snake wine is essentially a friendly misnomer to describe the result of something I like to call venomous-snake-eating-scorpion-shoved-in-ethanol-will-knock-your-socks-off-if-not-break-your-liver-oh-my-god-I-am-on-fire.
The desserts may look harmless, but even the macaron (made with unpasteurized bitter almond cream) contained between 4-9mg of cyanide per nut used. By the time the peanut, cacao and nutmeg sweetmeats were rolled out with an 84.5% ABV rum (no typo), we were both quasi-proud that we hadn't dropped dead.
(Though the pop-up is no longer running, Cafe de Mort was part of a campaign by Remember a Charity to encourage us – those 75% of us that give to charity – to leave a gift to charity in our will. Only 7% of us remember to do so! See www.rememberacharity.org.uk for more.)