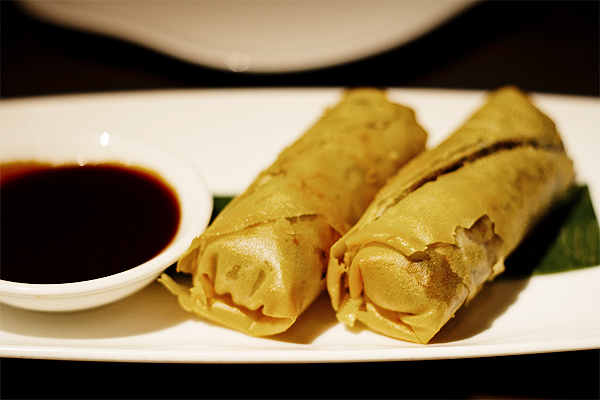 Ten years and a Michelin star past its inception, Yauatcha in Soho finally made its way into my personal calendar.
With the restaurant's fashionable reputation preceding itself, The Manfriend and I recently settled in to their vibrant basement dining space amped up by the promise of Haute Chinese.
Immediately taken with the long list of dim sum, we cautiously dipped a few slices of picked cucumber in chilli oil while restraining ourselves from screaming "EVERYTHING! GIVE US EVERYTHING!".
Successful in said restraint, we were happy to have two crispy duck rolls sat down in what could be perceived as the blink of an eye. Though simple in its conception, the duck rolls were packed with tender meat and halved for dippable manageability. I could have easily managed a few more if not for the arrival of two more dim sum delights; the lobster dumpling with ginger, shallot, and tobiko caviar (as moreish as a dumpling could possibly be) followed by a trifecta of Wagyu beef puffs. The latter – a savoury spill of gravy-soaked beef with a light and flaky pastry casing – was the surprise highlight of the meal.
Though I would have been happy to make my way through the rest of the available dim sum, a brief pause was taken to cleanse the palate with a 'lime and passion iced tea' (passion fruit, lime, and apple juice with jasmine tea) before our mains arrived.
For The Man? Mongolian style venison with butter and black pepper sauce. For The Femme? A Szechuan seafood and tofu claypot with peanut – the kind that knocks your socks off and makes your partner see tofu in a new light. I enjoyed both dishes greatly but would opt to spend those 40-something pounds on a surplus of dim sum on future visits.
Forgoing a melange of macarons (my go-to) for dessert, we opted for sweet treats that has enticed us earlier in the evening; a green tea choux with hazelnuts, curd, and confit alongside the 'Raspberry Delice' with chocolate brownie, lychee, and hazelnut. As the photography so rightly suggests, we were not disappointed.
Topped off with incredibly attentive and friendly service, it's not hard to see why Yauatcha has made such a name for itself.