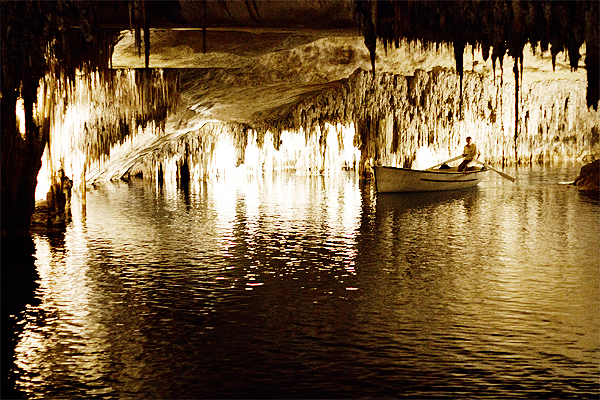 The drive to the Caves of Drach (or Cuevas del Drach) was filled with anticipation. While the five of us had agreed to assign one 'group activity' each over the week, we were all pretty negligent to take credit for the idea. In fact, I think everyone suggested the Caves of Drach in the first few days…
…but when something is heavily featured in basic travel guides, it screams tourist trap.
The Caves of Drach were an exquisite exception. Based near Porto Cristo in Manacar, the Dragon Caves (should we be talking literal translations) do welcome a mindblowing number of tourists, but you feel completely unaffected as soon as you enter the caves.
The four – the Black Cave, White Cave, Cave of Luis Salvador and Cave of the French – are joined together and reach depths of up to 25 metres. As you can see, they are also mesmerising – a complete envelopment of stalactites, stalagmites, and a wealth of natural history.
At the conclusion of the cave paths you are welcomed into a stone theatre to enjoy a brief classical music concert (loved by some, slept through by others) before taking a subterranean boat trip across Lake Martel.
Tourist 'trap' or not, I would have paid twice as much to even glimpse inside the Caves of Drach.