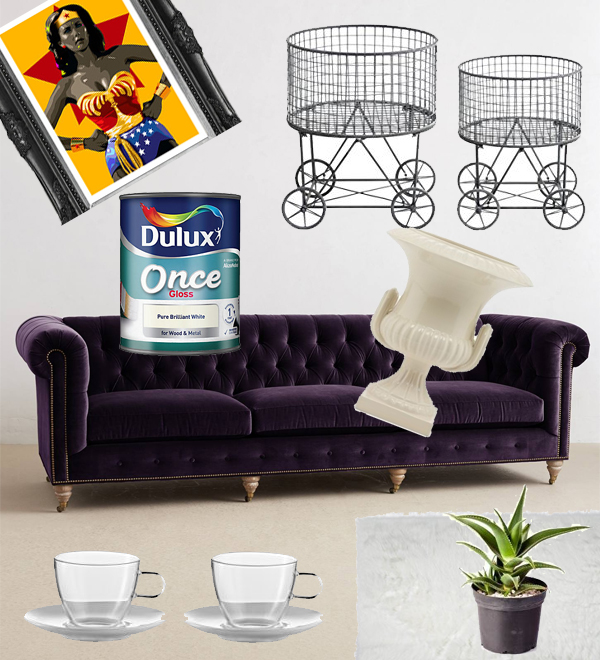 My brain is a cacophony of living wishlists. A cacophony with no rhyme or reason whatsoever. I 'make note' of something I want as soon as I see it, leaving it to float aimlessly around the abyss of quick thoughts (as so many of us do).
The practical fact is, when I return to London from Thailand I am moving into a new house. A big house. With a big garden. And not a whole hell of a lot to put into it (hashtag: #travelblogger).
Last weekend, I spent Sunday with The Manfriend and Mrs. Manfriend Senior, painting everything Jasmine White and fashioning box upon box into an oversized cardboard mountain.
I decided to turn the abyss into a real-life wishlist. A proud (though somewhat essential) moment.
Home Interiors Wishlist
The essentials:
White blinds (The bedroom currently boasts some floral monstrosities)
White wood paint (For the skirting boards and wooden glass doors need a refresh)
Over the door towel rack (WHY do I always give these away when I move? I've probably spent over £100 on them in my lifetime)
Superhero prints (I'm creating a phenomenal gallery wall – more on that in a later post!)
Black wood paint (Also for the gallery wall)
Plants (Having spent an obscene amount of time as a casual student of green living, I have a laundry list of plants and flowers I want to furnish the house with. Might as well throw a gold plant pot or two in there).
Laundry basket (It broke in the move – c'est la vie)
The not-so-essentials:
A Chesterfield sofa (We have a white leather sofa bed, but our almost two-room living area would look impeccable with a big black four-seater to compliment it)
Enormous faux animal hide rug (I've never understood the appeal of real animal hide, but a gargantuan faux would look immense)
All white bedding (I just love white, okay?)
Champagne bucket (I've bought a second bar cart, and I'm not sure it feel feel complete without one)
Gold martini glasses (I love gorgeous glassware)
Clear teacups and saucers (See above)
Throw pillows (For the sofa – black/white/gold – and bedroom – white/silver/red)