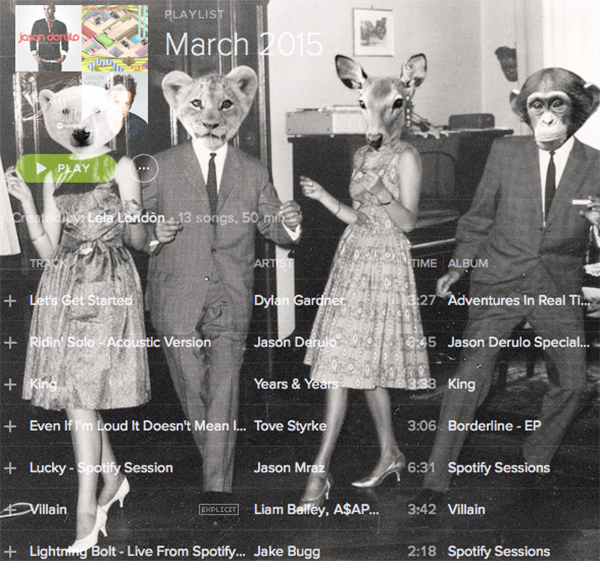 I have been listening to a number of acoustic jinflejangles this month. For the first half of the month, my modus operandi was sexy male voices. Then I discovered Andreya Triana…
This month's free Spotify playlist found its hardcore femininity in the latter half of the month (and I expect no-one will have a bad word to say about it). Bias or not, this is one groovy collection of rhythmic delights.
Click on to listen and enjoy!
(Need to catch up on last month's? Click here for February's free Spotify playlist.)
Track listing:
Let's Get Started by Dylan Gardner
Ridin' Solo (Acoustic) by Jason Derulo
King by Years & Years
Even If I'm Loud It Doesn't Mean I'm Talking To You by Tove Styrke
Lucky (Acoustic) by Jason Mraz
Villain by Liam Bailey and A$AP Ferg
Lightning Bolt (Acoustic) by Jake Bugg
Gold by Andreya Triana
Take Me To Church (Acoustic) by Hozier
Sugar by Maroon 5
You & I (Acoustic) by Local Natives
Fire by Gavin DeGraw
Riptide (Acoustic) by MisterWives
Hold Back The River (Acoustic) by James Bay