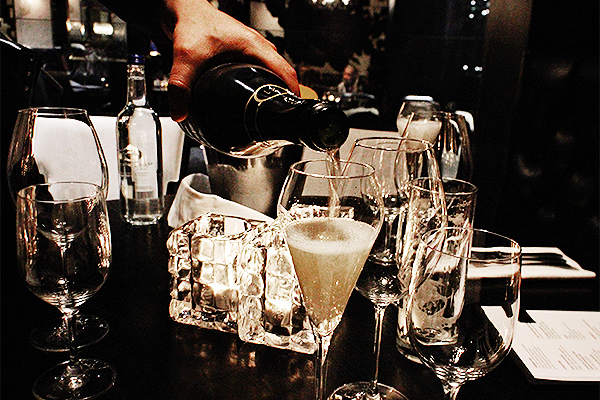 For over twenty years, I have been incredibly disheartened by the lack of Halloween spirit in London. Having spent my happiest childhood memories dressed up as Sally from The Nightmare Before Christmas for Orlando's Horror Nights, the candy corn and trick or treat-less streets of the capital were a noticeable change during Halloweens spent in London.
As they say, life is what you make it.
This year, I celebrated my favourite holiday with two gargantuan parties, a plethora of candy corn, and an incredible pre-party party with an even greater amount of Chandon (Moet's heritage sparkling wine).
The celebrations kicked off on Friday with Beauty, Bubbles, and Beats at Benefit's flagship Carnaby Street store. On the last Friday of every month, the brand get DJ Sophie Bond on deck, Chandon in hand, and brows on point for an evening of delightful girly fun. As it coincided so perfectly with Halloween, I brought my girl gang along to get dolled up before taking our sparkling Argentinian wine addiction to dinner.
One or two Dolly Parton dance-offs later, we walked down Regent Street and settled in to my appropriately-Argentinian favourite, Gaucho, for a feast.
Thankful to be in a group of fellow plate-sharers, we worked our collective way through spinach & stilton empanadas, seabream tiraditos and chorizo – my confit-topped kryptonite – before moving on to a medium-rare carousel of mains; the Lomo fillet (tender and delicate), Ancho rib-eye (marbled and flavourful), and seared seabass (for good measure).
With a table peppered in sides and Chandon, the evening also marked everyone's first time trying humita salteña (a traditional dish of roasted pumpkin and sweetcorn served in a corn husk and a dish we haven't stopped raving about for days).
Knowing we could squeeze in a few desserts over the final half-bottle, we then chose to nibble through Gaucho's decadent chocolate tart (with kumquats and honeycomb), pan tres leches (a light sponge soaked in three milks), and a selection of Cryer & Stott cheeses before heading off into the Hallo'ed eve.