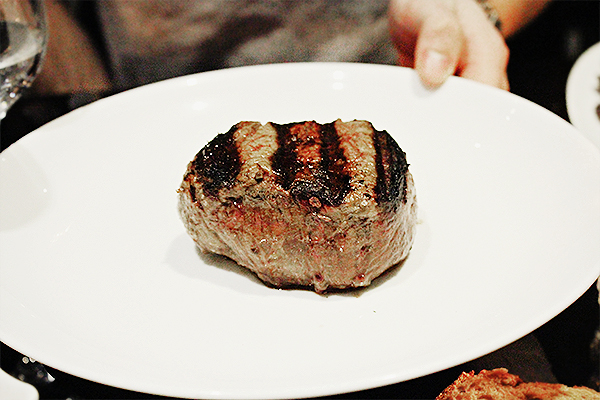 It's New Years Eve. You're at home reading my blog. As a public service, I must demand you head to
Gaucho Piccadilly.
Recently, and with absolutely no intention, I had the most amazing and gluttonous evening at this rather luxurious steak shack. Having dragged my carnivorous partner through painfully brisk London air to sample their new 'Beef in the Bar' charcuterie menu, a few cocktails turned – rather rapidly – into a feast.
Having nibbled our way through a delectable platter of Aberdeen Angus air-cured bresaola, beef & chilli salami, and chimmichurri cured salt beef, we climbed a staircase or five and nestled into the main dining room for the long night ahead.
Between seductive sips of Malbec, we kicked things off by splitting two beef empanadas (hand-diced beef, red peppers, Spanish onion and ají molido) and Gaucho's faultless fillet steak tartare (served with toasted sourdough and rocket). Having not dared to touch an empanada since my very inept but wonderful friend ruined a batch in high school, I was pleasantly surprised to find myself really enjoying Gaucho's interpretation. It may not be fillet steak tartare, but the pairing of the two served as glorious pre-steak nibbles.
From my previous experience of rib-eyes at Gaucho, I was more than happy to split a medium-rare rib-eye and fillet steak between us. Heaven comes in many packages, as far as I'm concerned (Gaucho's butter-brushed baked and grilled sweet potato, beef dripping-cooked chips, and roasted field mushrooms in white wine, garlic and thyme only further prove my point).
Before letting food fatigue sink all the way in, we managed to order the dessert sampler and sneak a bite of the hazelnut and rosemary tart, dulce de leche cheesecake, and orange and apple crumble to pre-empt a very necessary towel throw-in.
On our way to the coat check, I overheard two individuals on two different floors saying 'this is my favourite restaurant'. That about sums it up.