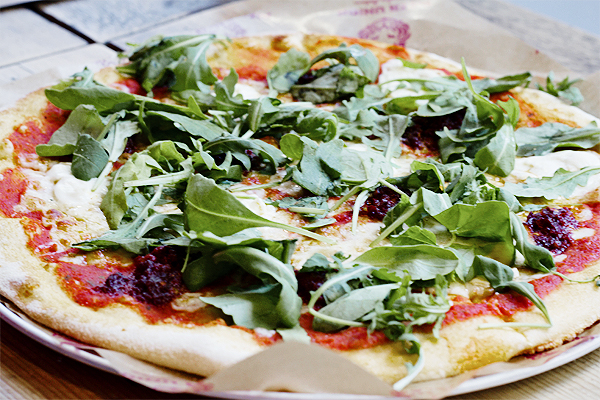 Unlike most carb-eating humans, I am not a pizza person. The Manfriend, however? The Pizza Person. Since we started dating, my pizza intake (or pizza topping intake, rather) has increased by over 1000%.
All is fair in love and war, right?
Last week, to feed his pizza penchant and my own obsession with trialling new restaurants, we made a stop at Pizza Union in Spitalfields.
The draw was simple: instead of monstrous, doughy, greasy circles, Pizza Union do superfast twelve-inch artisan pizzas. All of which are priced at only £3.95-£6.50 (with a gluten-free pizza base costing only £1 more).
After perusing the menu and delighting in their implementation of the American pager system (I belong to the school of thought which believes waiters only belong in fine dining establishments), we settled in with some nibbles and waiting a few short minutes to be invited – via vibration – to collect our orders at the counter.
For myself? The Stagioni (tomato sauce, mozzarella, cotto ham, pepperoni, mushrooms, artichoke, black olives). And for The Pizza Person? Calabria (tomato sauce, mozzarella, mascarpone, n'duja sausage, rocket).
It took one bite of a swapped slice to get major food envy. While the Stagioni featured some lovely ingredients, it took no time for me to write mental love poems to the Calabria. The sweetness of the mascarpone against the fire of n'duja was beyond perfect; a pizza hater's pizza, if there ever was one.
To wrap things up, we shared 'dessert' in the form of a warm dough ring filled with Nutella and mascarpone. The 'Dolce', though simple in concept, was metaphorical crack for mascarpone addicts and a gloriously sweet treat to share.
A pizza joint I'd visit alone? It must be good.