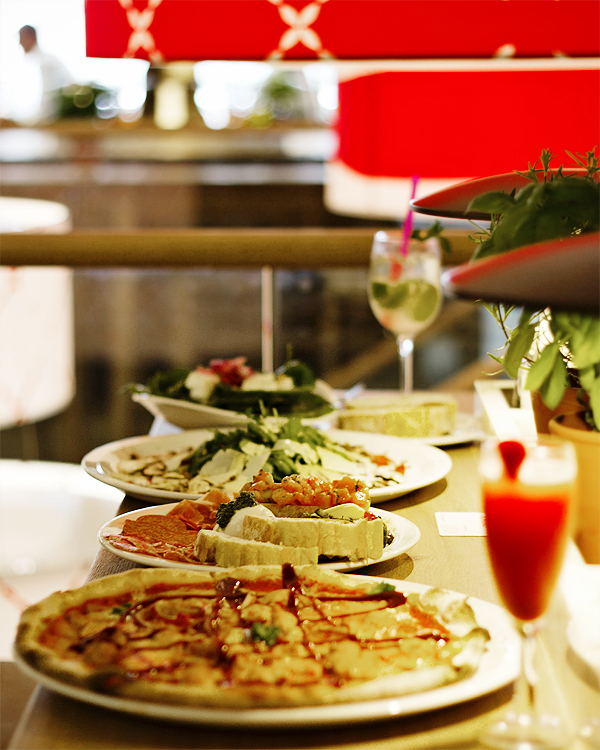 The well-reviewed Italian 'chain' restaurant Vapiano recently opened their third UK site on Wardour Street in Soho.
Try as I might to avoid chains, my intrigue finally got the better of me.
Dragging my best and hungriest guy friend along for the ride, we decided to spend a long lunch hoisted on the bar stools of Vapiano's least-busy location (the Great Portland Street restau is always heaving with The Lunch Crowd).
The concept, in theory, is ingenious: upon entering, you're given a Vapiano card that gets charged every time you order an item from one of their various food and drink stations. When you're ready to leave, you simply hand the card over to the F.O.H. team and settle your bill.
The issue? There is something lost in translation. Do you wait for your food to be made and take it back to your table? What if you have an issue with your food? What if you want multiple items – or courses – but don't want to leave a conversation or wait in a queue? What if you're in a large group and other people get their food much quicker than others (I saw this happen a few times between antipasti lovers and patient pizza lovers)?
Regardless of the card hoopla, I really enjoyed Vapiano. I found it to be great value, fresh, and a lovely atmosphere to dine in. The card system is simply not being executed in a way that does the food justice.
Lucky enough to arrive before the lunch rush, I got through a gorgeous strawberry and fresh spinach salad (dressed with goats' cheese, red onions, pine nuts and homemade raspberry maple dressing), a plate of carpaccio, and the 'death by chocolate' cake – all of which totalled under £20. While my friend opted for a carby mix of bread-based antipasti, an 'internationally inspired' barbecue chicken pizza (topped with smoked cheese, red onion, tomato sauce, mozzarella, and barbecue sauce stripes), and a classic baked vanilla and lemon cheesecake, his feast was equally cheap and equally delicious.
My advice? Avoid the lunch rush, go with no more than three friends, and stagger your ordering. The food is worth it.