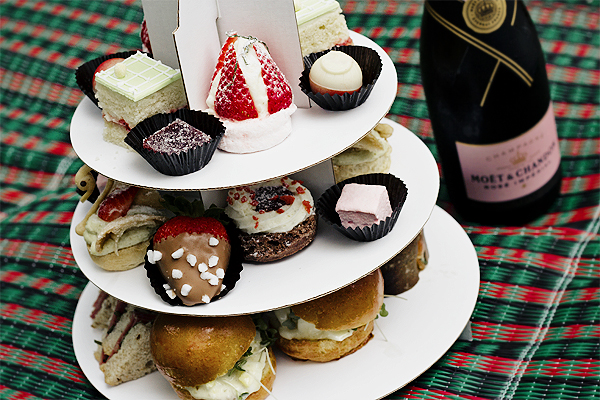 My last trip to The Park Tower Knightsbridge was almost five years ago. 2009 – and The Park Tower – mark my first-ever business meeting with a designer brand.
Having had so much change, bewilder and humble me since that meeting, The Park Tower holds a very special place in my heart. When welcoming one of my close friends and recent London transfers to the city, it seemed more than appropriate to take a pit stop at the hotel and take away their afternoon tea for a picnic in Hyde Park.
Their 'Take Away Strawberry Afternoon Tea' – as you can see – is beautifully ingenious.
In their three tier cardboard tea platter, The Park Tower include:
– London smoked salmon and green asparagus (sushi style) with keta caviar on nori bread (IT. IS. UNREAL.)
– Norwich farm chicken caesar with baby gem chiffonade on carrot bread
– Surrey peppered beef pastrami with horseradish cream on malted grain bread
– Silver Hill duck egg mayonnaise and mustard cress on viennoise briochette
– Scones with strawberry and rhubarb marmalade
– Strawberry Valrhona white chocolate truffle
– Strawberry marshmallow
– Whole strawberry dipped in Valrhona milk chocolate and nibbed sugar (
– Strawberry pâté de fruits
– Strawberry and crème chantilly pavlova
– Strawberry Victoria sponge cake tennis court and lemon tennis ball
…and…the most amazing pastry I have ever laid eyes on…
– Strawberry petit choux pastry swans with pistachio cream mousseline.
Truth be told, stretching out in the sunshine, listening to an insane Beatles cover band, and devouring the petite platter between us was the most gratifying way we could have spent an afternoon. Quintessential London luxury.
The takeaway afternoon tea is priced at £19.50 per person or £69 for two with a half bottle of Moët & Chandon Rosé (GO FOR IT) and available through August 31st. I advise booking 24 hours in advance (by online form or phone) to ensure availability.