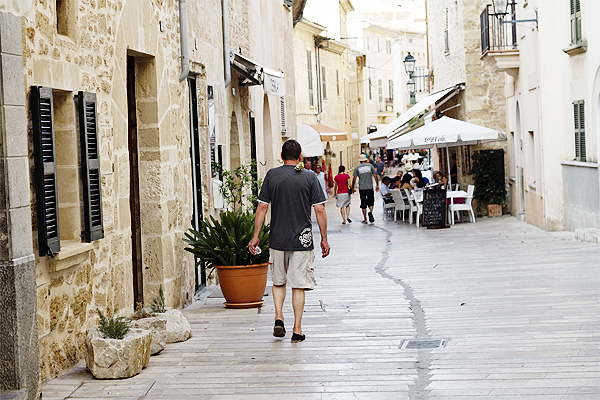 Alcudia was a bit of a running joke between the family over our week in Mallorca. Though I've never spent any time on the main strip of Alcudia, driving along it to get to…well…better places clearly relayed its booze and fast food-fuelled lifestyle.
It's just not the kind of place I want to spend my downtime.
Alcudia Old Town, however, is a different story. The Old Town is as authentic as Alcudia gets – even coming with its own set of 14th century city walls. Though there were not many people around when we arrived, we quickly scouted an unassuming set of stairs which led us to the top of the wall. At that point, I think we were all rather consumed with Game of Thrones feelings and stomped around the entirety of the village below like the Kings and Queens of TouristTown.
When we returned to reality, we were starving and tried our very best to navigate the cobbled streets into some sort of foodie fate. Alas, we ended up letting The Manfriend pick a pizza place (with a waiter from Essex and Disney characters littering the 'English' part of the menu). Eek.
Not that Alcudia was a write-off. Definitely not. As we punctuated our mediocre noms with great, cheap wine and even better people-watching games, we noticed a Spanish family close their pharmacy (next to the restaurant), drag a few of the restaurant's tables over to the pharmacy, and begin to set up something of a street party.
Less than half an hour later, the full family party arrived, started to sing through the streets, and eventually pulled The Manfriend and I over to join their raucous conga line (which he ended up weaving through the backbar's of neighbouring restaurants and streets).
Alcudia Old Town gets 5/5 from this woman.