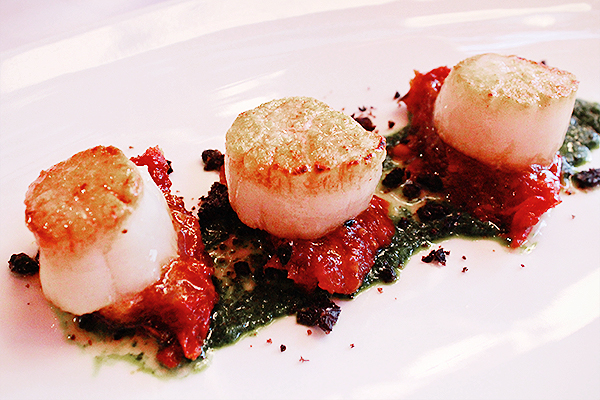 Most of my restaurant reviews earn their place on the blog by showing me something I haven't seen before. Be it a dazzling display of culinary ingenuity or a street food concept that makes me smile, I revel in gastro-newness.
Jean-Jacques in Soho has made my heart pang in an entirely different way. The new kid on the block is situated as centrally and hipster-friendly as any new London restaurant could hope for, but offers fanciful French food in the coziest of atmospheres.
From the second I walked in, the restaurant took me on a journey to long childhood lunches in the South of France with my father. Visually, Jean-Jacques is rustic and warm with noticeably well-presented dishes scattered between bottles of well-selected reds.
As adult culinary adventures go, my friend and I ordered a few glasses of Malbec and went straight for the jugular: steak tartare and Scallops St. Jacques with salsa verde, tomato and olive fondue.
If a French restaurant can't wow with these staples…are they really a French restaurant?
Passing our test with flag-flying colours, we moved onto the insanely moreish Barbary duck breast (with honey & rosemary glaze, heritage baby carrots and swiss chard) and Poussin (cooked perfectly alongside sweetcorn and) bacon before indulging in dessert; perfect little profiteroles (their dessert of the day) and a chocolate fondant with walnut praline and pistachio ice cream.
For a little slice of Nice in the heart of Soho, I couldn't ask for anything more.