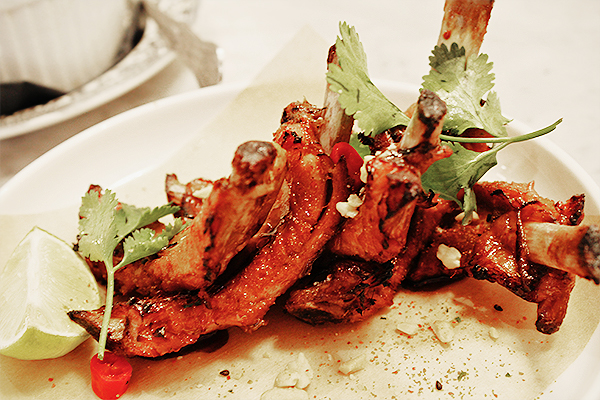 The rumours are true: you find love when you least expect it.
Without presumption, I made a dinner reservation at North Audley Cantine (or NAC) because it was around the corner from my last meeting of the day and – spoiler alert – the restaurant knocked my socks off.
The 'cantine' is, as fellow Londoners might deduce, located on North Audley Street at the Marble Arch end of Oxford Street and serves up a vast menu of curious comfort food throughout the day.
Cocktails are recommended. Not only because they are badass (which they are) but because you'll need something to savour while you attempt to choose from a dangerously enticing menu.
Once we were able to make up our minds, we were brought a branded and pink-striped goody bag of bread and butter before our sharing plates ('starters', for purpose of the review) arrived. Knowing we had some heavy mains on the way, our trio of seabass tartare (with cucumber, ginger, lemongrass & Szechuan pepper), tiger prawn tempura, and farro salad of (with crushed avocado, parmesan, chilli & mint) offered a flavourful tease of what was to come.
When the smell of truffle started to flood from the kitchen, our order was indisputably ready. Though both my dining partner and I were after the truffle burger (a lavish little beauty loaded with mature cheddar and truffle mayo), I gave mine up for a bite of his and a starter/side combo of teriyaki pork ribs (loaded with mirin and chilli) and truffled mac & cheese.
With both mac 'n' rib melting over my tongue, I hardly lost out.
Calling it quits before I could hit ceramic, I headed downstairs to freshen up and stumbled upon NAC's not-so-secret bar – Chez Chow – through heavy curtains. I have yet to spend an evening there but further inspection found that the dog-themed speakeasy serves up a glorious cocktail and nibbles menu of its own. Bookmarked.
After my little discovery sesh I returned to the table to find dessert menus. Though I wasn't feeling the need (truffle and I keep each other very satisfied), one glance at the word 'churros' secured the table for at least twenty more minutes.
Arriving alongside three lovely puffs of choux (served with ice cream), the churros were every bit as fluffy, warm and moreish as I had hoped.
I'm accidentally in love.