Like any modern twenty-something, I felt I had enough cinematic experience to prepare me for my first trip to Las Vegas and while I wouldn't say my naivety left me at a loss, I certainly didn't imagine Vegas in its incredible entirety.
Parties? Sure. Gambling? Sure. Wealth? You betcha. The endlessly entertaining, relaxing, and somehow family-friendly city it is? Not at all.
From an impromptu night partying with Calvin Harris to a day hiking the Grand Canyon, Vegas gave me everything I could have hoped for in the middle of the desert. And so much more.
The vlog (above) and blog (below) will give you the low-down on my personal experience as well as a bit of a Vegas for Dummies (or Vegas 101, to be politically correct) at the bottom.
Enjoy!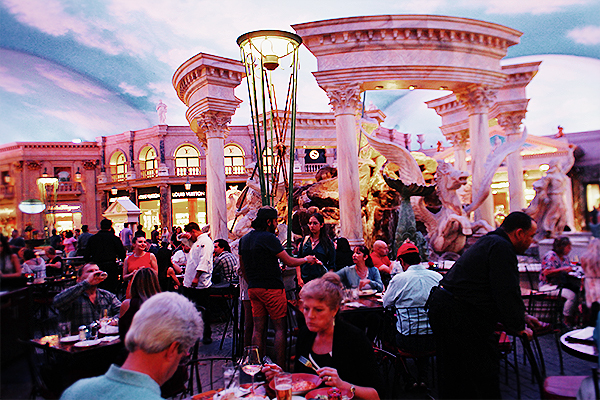 After a rerouted flight, we got to Vegas muchlater and hungrier than planned so headed straight to meet our friend at Trevi in The Forum Shops at Caesars Palace.
What happens when you're wearing no makeup, plane clothes, and gorging in one of the most luxurious building in one of the flashiest cities in the world? You end up getting invited to party with Calvin Harris at Omnia (Caesar's $100-entry club) and drink Dom Perignon all night in your trainers.
I still don't understand life, guys. It makes no sense.
Well and truly sprinkled with Vegas' magic dust, the following week was – even as a woman who doesn't 'party' – a dream come true. Pool parties, hotel adventures (we managed to visit every single one on the Strip!), comedy shows, Cirque du Soleil…
And food. Of course. The food scene in Las Vegas is, like everything, curated to astound you.
As a brunch lover, I lost what mind I had left over the bottomless brunch from Border Grill at Mandalay Bay when the weekend came. For $34.99, you get unlimited Mexican-inspired small plates (including chilquiles, peruvian shrump & grits, biscuits & chorizo gravy, churro tots, and more) alongside bottomless mimosas (for only $10 more).
It was so good I vlogged the entire feast.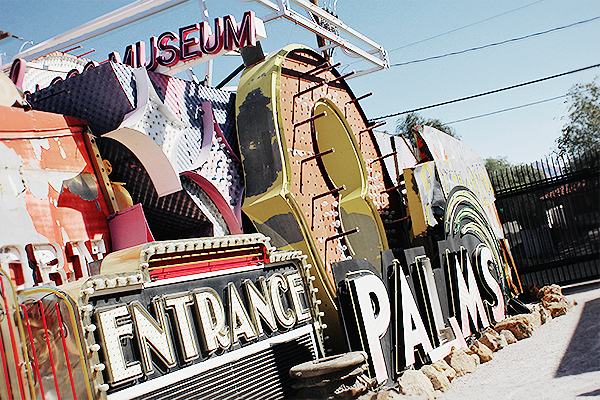 When it came to off-Strip activities, one of my most anticipated stops was The Neon Museum (or Neon Graveyard as I kept referring to it); an open-air collection of iconic and retired Las Vegas signs for educational and cultural perusal.
There are two areas; 1) The Boneyard (where the guided tour takes you), 2) The North Gallery (an unguided collection). We were only able to visit the latter as the guided tours were booked up but felt completely satisfied, nonetheless. Most of the "best" Boneyard signs are still visible from the gates and the staff looking after the North Gallery are able to give you a lot of attention and information. If you're on a fly-by visit, The North Gallery should be enough.
Pause for more food highlights: Cucina by Wolfgang Puck (in The Shops at Crystals – high-end cuisine at comfortable Vegas prices) and Bruxie (counter-serve chicken and waffle sandwiches that will blow your mind).
Spending the majority of our days and nights on the Strip and in the sun, we dedicated our final full day to the Grand Canyon and Hoover Dam.
It was different than I expected but – much like Vegas as a whole – in a supercalifragilisticexpialidocious sense.
We decided to forgo the Skywalk (the Canyon's glass bridge at Eagle Point) for challenging hikes up unsteady rocks and the Hoover Dam 'experience' for an 840-foot ascent to the Mike O'Callaghan – Pat Tillman Memorial Bridge (aka the Hoover Dam Bypass Bridge) for bird's eye views of one of the world's most successful engineerings feats in our lifetime. With less than eight hours to fit in all in, it was the most authentic and rewarding way to tackle off-Strip "must sees".
Vegas 101: Everything you ever wanted to know…
How big is Las Vegas?
The Strip – where most of the city lives and breathes – is only roughly four miles but the scale is out of this world. I imagined I would be able to do a top to bottom walk in less than a day but with somethig packed into every square inch, it genuinely took me five days to "see it all".
How do you get around in Las Vegas?
Realistically, every hotel wants you to stay inside their premises for the duration of your stay (with multiple restaurants, bars, theatres, and casinos in each, it is completely possible). This, however, means getting around isn't as easy as you would expect. There are a number of over-road walkways but very little straightforward walkability. Uber was a lifesaver in a time-crunch (for $15 off your first ride, you can sign up with the code uberlela!).
Is Las Vegas expensive?
If you plan poorly or eat out every meal, it certainly can be. But it doesn't have to be. The most I spent in Vegas was front-row tickets for Cirque du Soleil's O but I still managed to find a deal online that saved me $100 a ticket. I would advise a well-stocked fridge, a blowout meal a day, and looking for deals on any entertainment bookings (especially through your hotel as concierge's often get special rates).
It is also worth mentioning that, as a woman, I think I only bought one drink for myself the entire week I was there. Hosting tables are a girl's best friend (maybe the only place in the world where gender works in our favour, eh ladies?).
Are Las Vegas shows worth the money?
Yes and no. I went to a comedy/burlesque night and a Cirque du Soleil show that varied massively in price but little in entertainment. Because of its reputation, you can find fantastic talent for meagre prices and vice versa. Do your research and choose a range of shows that pique your interest across price points.
What is the best pool party in Vegas?
I really enjoyed Encore Beach Club but tapped out after one too many patrons got legs-in-the-air-wasted. For $20 a drink, I would find it hard to call it the 'best' but certainly danced my socks off. My advice? Save your drinking for before/after, get on the guest list (free entry), show up two hours after it starts (when everyone loses their insecuritiea & feels the beat), and you'll have fun at any pool party.
If you have any more questions, I'm always a tweet (@lelalondon) away!
For more information and to start planning your visit to the USA, visit www.VisitTheUSA.co.uk.