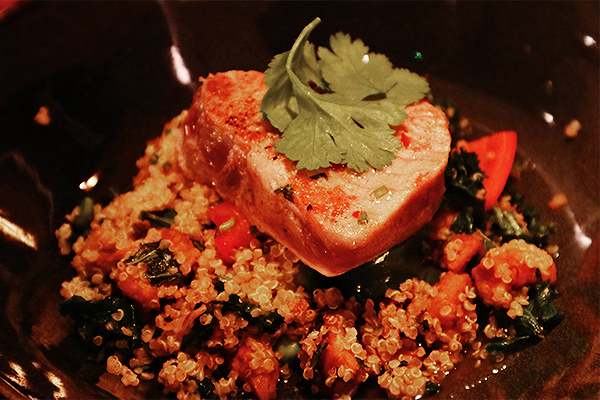 I spend an obscene amount of time and money eating less-than-pleasing boxed salads between meetings. For all that is health conscious, it is a necessary but grating evil and one that had me so outrageously bored last week I decided to pop in to wagamama for something a little more flavourful.
As casual dining goes, they are a quality-focused go-to of mine so I was delighted to see they had launched a selection of incredible-looking Summer dishes while I've been in the States.
To start, my lunch date and I nibbled on beef tataki (lightly seared marinated steak) over a few sips of sake. The tataki – served chilled and dressed with citrus ponzu & japanese mayonnaise alongside pickled beetroot and coriander – rivalled some of my infinitely more expensive London restaurant favourites and braced us for our respectively delicious mains.
My date went for their seared nuoc cham tuna steak (on a bed of quinoa with stir-fried kale, sweet potato, edamame beans, red onion, peppers, and garnished with coriander) while I went for the nutrition-packed pad thai salad. The salad blends ginger chicken and prawns on a bed of mixed leaves, mangetout, baby plum tomatoes, shredded pickled beetroot, carrot, red onion (I'm allergic so went without), and fried shallots. Then serves it with a side of peanuts and a nuoc cham & ginger miso dressing.
Drooling yet?
For the time and money it would have taken me to source a sub-par boxed salad, the restaurant more than deserved a rave review. Thanks for keeping my culinary sanity in check, wagamama.