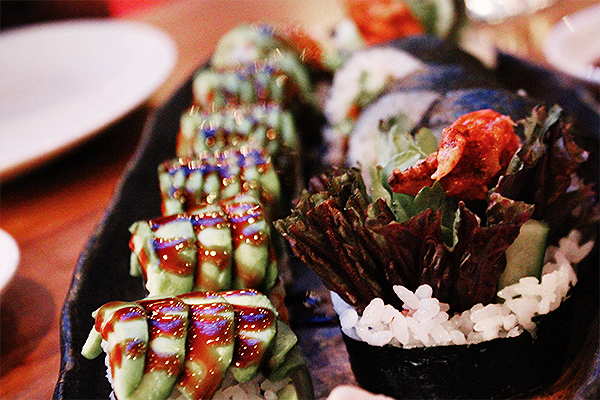 Dstrkt is my favourite club in London. And I'm not traditionally a 'clubbing' kind of woman. Dstrkt simply hits the nail on the head; perfect location (a side street in Piccadilly Circus), a luxurious and comfortable setting (not too big but big enough to dance in), great music, frequent celebrity sightings (Kim K turned up the night after I did) and now…a delicious food menu. I didn't actually realize the club had an adjoining restaurant until last month (only five years later, ahem) so was excited to put the kitchen through its paces.
​Taking a slightly different underground route to the restaurant instead of the lounge, my foodie accomplice and I settled into a table by the open kitchen at the bottom of the room's beautiful split-level interiors.
Though they open to cater to pre-theatre crowds, the restaurant feels destined to that of celebratory meals, to me. A bit more style over substance than you'd hope for at the pricepoint, but we enjoyed a delicious Asian-European selection of spring rolls, crispy squid, sushi rolls, chicken satay, truffled ravioli, and cheesecake before segue-ing into the lounge at 11pm.
Some pretty special dance fuel, if you ask me.