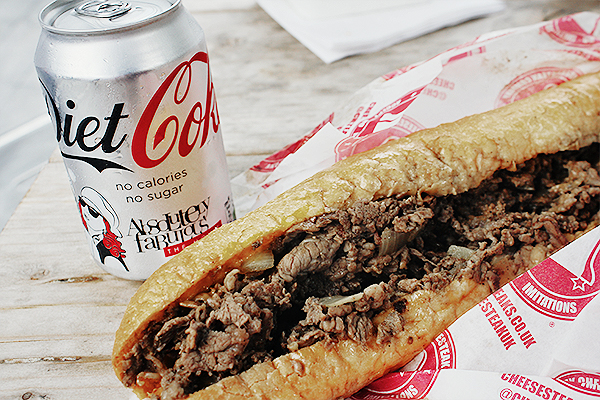 I may not be 'West Philadelphia born and raised' like the Fresh Prince, but my yet-to-be-throned American half appreciates an authentic Philly cheesesteak as emphatically as a local.
My British half, as you know, leaves me living in London with very little "real" Americana cuisine to choose from. Let alone cheesesteaks.
At least it did before Liberty Cheesesteak Company. The food truck – based in Spitalfields Market – was founded by Philly expat JP after he realised his home city's iconic sandwiches were nowhere to be replicated in London Town.
Cheeseteak-wise, they don't get better; their "Wiz" is a secret blend of real cheese peppered with a secret 0.1% natural flavour mix and both their bread (Italian-style hoagies) & rib-eye beef are locally sourced. To order like a Philadelphian, you simply name you size (whole or half), cheese (Wiz, Provolone or American) and onion preference ("wit" if you do, "witout" if you don't) in one fell swoop…
Whole Wiz Wit, or bust.
The cheesesteaks are Liberty's obvious calling card, but it is worth noting that their wiz fries, root beer/cream soda floats, and desserts don't fall short of their eponymous offerings (there are also veg and gluten-free options for those who need them).
It's a slice of home comfort…American or not.
* If you have little time to get down to the truck, you can also order your goods via Deliveroo (and this link gets you £10 off your first order)!