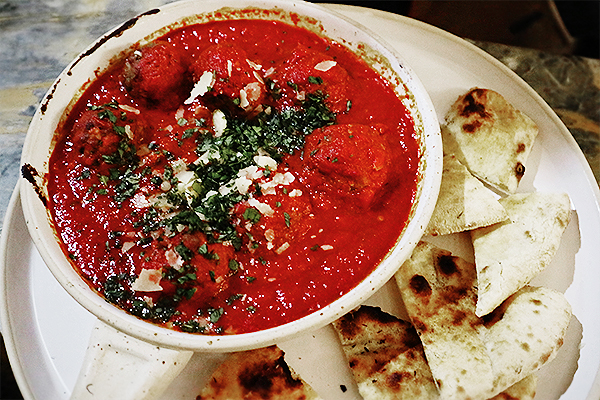 While I respect anywhere with the balls to promote a restaurant, cocktail bar, hot desking workspace and nightclub as a single venue, I'm not sure Canova Hall should call themselves a quadruple threat just yet.
The newly-opened 4,500-ft Brixton baby was launched to expand on the success of the owners' popular London Fields pizza pub, Martello Hall, and fans will be pleased to know their beloved sourdough pies have made it south of the river.
Looking like an old market canteen of hipster dreams, the atmosphere is also rather remarkable. From the moment I sat down, there was a very low bar set to charm my discerning pants off.
The food, however, fell short. The meatballs (in a 'Nduja tomato sauce with parmesan & pecorino) were drier and less seasoned than my own. The smoked scarmoza & pancetta crocchettas (with rocket pesto) needed the pesto to draw any flavour.
The highlights were the plate of torta fritta (Italian dough balls) with salami, truffle taleggio, pecorino, riccota salata & salsa verde and zucchini fries. But I am looking for much more from a fully-fledged restaurant experience than an adoration for prepared charcuterie and fried vegetables.
Naturally, there will be teething issues. Ones I can only hope I've experienced here as their drink selection is incredible.
Canova Hall might actually be the sexiest place to get your drink on in South London. Their beer selections are suitably crafty (Five Points, Yeastie Boys, Fourpure, etc), they have 12 delightful wines on tap, a massive & classically-served absinthe offering, and a Barrel Aged Old Fashioned so perfect I may actually elope with it (Woodford Reserve from their barrel, maraschino cherry extract and orange bitters).
Though I left feeling relatively indifferent towards its culinary exploits, I feel Canova Hall is one to watch. Post-training wheel removal.
(Or visit for a tipsy-binge on zucchini fries, at least).