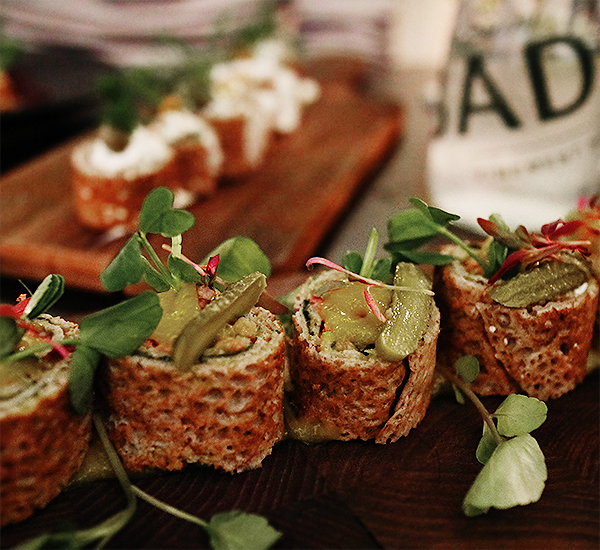 As a food writer I am quick to respond to restaurant suggestion demands across every corner of London, but Liverpool Street has always stumped me. While there are the obvious choices, great independents are swamped by chains and nondescript watering holes until you get closer to Shoreditch.
New restaurant L'ami Malo is an exception to the rule.
Nestled past the boozing bankers of Artillery Passage, this contemporary French crêperie has taken inspiration from the traditional French town of St Malo (famous for its high quality galettes) and executed the cosiest of culinary concepts.
We're talking crepes and galettes pushed to their limits.
To start, my date and I split buckwheat goat's cheese croquettes (atop roasted heritage
beetroot, and kasha seeds with a honey & thyme dressing) before delving into their similarly galette-inspired 'maki rolls'; ham hock (his favourite – with gherkin, watercress, and piccalilli) and smoked salmon with capers, shallot, dill, keta caviar, and crème fraîche (obviously my favourite, but rich enough to warrant sharing).
Though the menu ran the risk of galette overkill, their star interpretations were so incredibly well-cooked I almost forgot buckwheat had anything to do with them. My own main, confit duck leg, included braised red cabbage, a caramelised pear, tenderstem broccoli, and a red wine jus in a way that could truly only have been heightened by a bottle of 2015 Château Coudray-Montpensier Chinon.
(A herbaceous and heavily-berried choice which, of course, they had.)
I would order the confit leg or slow-cooked red wine ox cheek (with confit baby onion, heritage carrot, buckwheat polenta, and crispy kale) again in a heartbeat.
With the recommendation of our l'ami-personifying waitress, we ordered their take on a vanilla cheesecake (a delectable arrangement of cakeless 'cheese' with baked dutch rhubarb and crispy crepe swirls) to end.
L'ami Malo is a restaurant I would recommend to anyone. Without hesitation. And I never do so lightly.