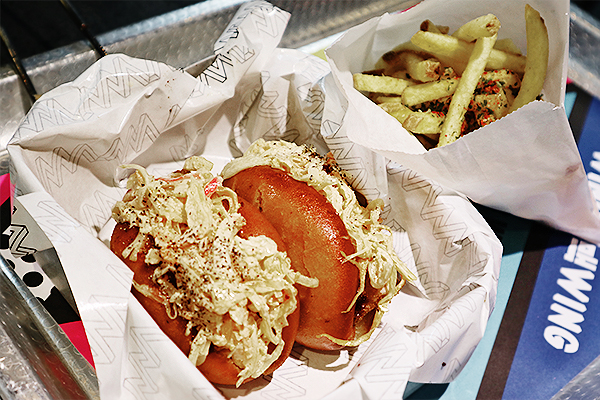 If I'm raving about fried food after four months in America, you know someone's doing something right.
In this case, it's Wing Wing – London's answer to the ever-growing Korean trend of 'Chimaek' (translation: chicken and beer) restaurants.
While it crispy Korean-style wings and drumsticks are their calling card (and available in a soy garlic, hot, or liquorice glaze), I rate their Katsu bao as one of the city's best. With a lightly fried bao bun, they are a unique take on an Asian favourite and delightfully dirty.
Of course, it wouldn't be a true Chimaek experience without the beer and Wing Wing's spectacular 'bottoms up' beer system (which pours an ice-cold pint in four second from an upwards-pouring spout) doesn't disappoint.
Alco-free? Their ginger beer slush is a sweet and principled substitute.
Impressed with Wing Wing's eponymous offering, my dinner date and I decided to delve deeper into the menu; seaweed fries, onion bricks, yuzu meringue bao nuts (their creme filled bao-utilizing 'donuts'), and a strawberry granola ice cream which felt bizarrely healthy after all the aforementioned.
While the counter-serve restaurant may lack its Holborn-based neighbours' sophistication, it is – after all – a fried chicken restaurant. Go with a group, try a little bit of everything, and try your darnedest not to order some hot drumsticks for the road.