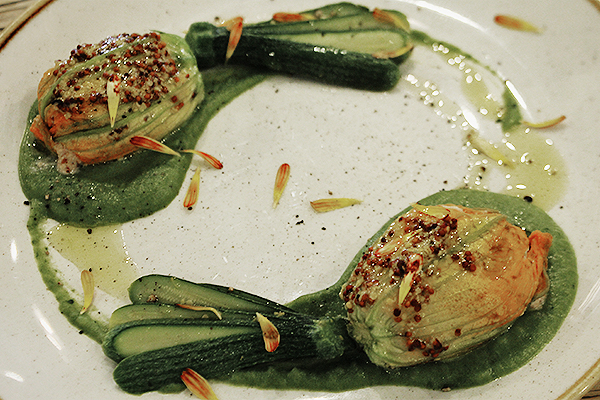 Last month Maille hosted an incredible Fête de la Gastronomie celebration on the Thames which gave 150 foodies the opportunity to enjoy an eight-course tasting menu of mustard-infused delights from the likes of Grain Store, Fink's Salt and Sweet, Bibendum, and more.
Because I had a conflict on the evening, I was severely bummed to miss out on the evening's unique festivities so booked it down to Grain Store as soon as I was tipped off – they added their ricotta and Maille Wholegrain Mustard-stuffed courgette flowers to their specials menu!
Starting with a round of non-alcoholic French Blonde cocktails (Grape juice, elderflower cordial, lemongrass, and verjus), my lunch dates and I took longer than ever to make menu decisions. The offering is that unusual intrigue, to say the least…
During our lunch, we trialled the incredible courgette flowers (obvs), beetroot, ricotta & parmesan ravioli (with rocket, fried breadcrumbs, and sage), a hot seaweed sushi bowl (with glazed pak choi, black garlic purée, hake à la plancha, and vanilla butter), and my personal favourite – the mushroom & celeriac scotch egg (paired with fermented chilli & miso paste, asian greens, and master stock quail)
In hopes of every dish being as good, I have promised myself to make my way through the menu over the next few months. Grain Store is ambitious in both size and price point, but when London is rife with pulled pork hangovers, a restaurant where meat is an accessory to vegetables – and even condiments – might be just what our city has been looking for.
The Recipe
(Because there are very few dishes as spectacular…)
Grain Store's Ricotta and Maille Wholegrain Mustard Stuffed Courgette Flowers with Potato and Parsley Velouté
Serves: 2 | Preparation time: 25 minutes | Cooking time: 15 minutes
Ingredients:
Stuffed courgettes
4 tbsp good olive oil
60g shallots, chopped
2 cloves garlic, finely chopped
50g semi-dried tomatoes, chopped
1 tsp fresh oregano, chopped
1 tbsp black olives, finely chopped
Salt and pepper, to season
150g ricotta cheese
8 baby courgettes, with flowers attached
1 handful of parmesan, finely grated
2 tbsp Maille Wholegrain mustard
Velouté
150g Desiree potatoes
Pinch of salt and pepper
1 handful flat parsley
100ml whole milk
2 tbsp unsalted butter
Edible flowers to garnish
Method:
Courgettes
1. Pre-heat oven to 180C/356F/gas mark 4.
2. Put 2 tablespoons of oil in a frying pan and gently cook the shallots. After a minute, add the garlic, tomatoes, oregano and olives.
3. Season with pepper before cooking on a low heat for another minute, gently stirring.
4. Place all the ingredients in a mixing bowl to cool down. Once cool, add the ricotta, parmesan and Maille Wholegrain mustard and mix well.
5. Carefully separate the flowers from the courgettes, twisting lightly. Open the flowers and, with the help of scissors, snip off the stamen inside and discard.
6. Place the baby courgettes one by one on a chopping board. Use a thin sharp knife to make 3 cuts in the length leaving it attached at the top. The courgette should be fanned when cooked.
7. Fill a piping bag with the ricotta mixture and pipe equally into each courgette flower before tightly closing by twisting the end.
8. With a pastry brush, brush the bottom of a roasting tray with olive oil then lay out the courgettes and the flowers. Brush them with the olive oil on top.
9. Season the courgettes (not flowers) with salt and pepper.
Velouté
1. Peel the potatoes and dice. Place in a small casserole dish and cover with water and a pinch of salt. Cook them on the stove until soft enough to mash.
2. Blanch the parsley in boiling, salted water for 20 seconds before draining. Refresh under cold water. Squeeze out the water, pat dry and cut finely.
3. Heat up the milk and butter in a mug in the microwave. Remove and add the parsley. Pour into a blender and mix to get a smooth texture.
4. Mash the potatoes and add to the blender. Give a quick blitz to blend it together – but not too long or it will make it gluey.
5. Bake the courgettes in the oven at 180C/356F/ gas mark 4 for 8-10 minutes or until they feel hot in the centre. Taste with a thin knife blade.
6. To dress, spoon the velouté equally on the middle of each plate.
Lay 2 flowers on each with the courgettes fanned the opposite way. Sprinkle some edible flowers and drizzle with olive oil.