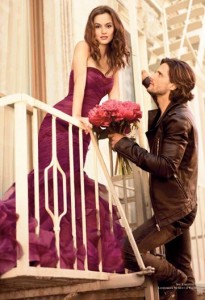 Yes! Leighton Meester is back on the style circuit. Above, we have the official ad for Vera Wang's "Lovestruck" fragrance – shot by Carter Smith – which Leighton is the spokesmodel for. The ad is a little bit Pretty Woman and unnecessarily Photoshopped, though brush off-able. C'mon, it's Leighton.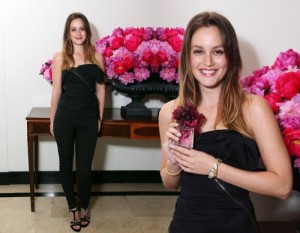 For the fragrance launch, Meester wore a Vera Wang Pre-Spring 2011 top and pants, Roger Vivier shoes, and Cathy Waterman jewellery.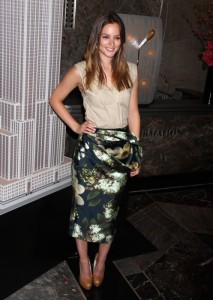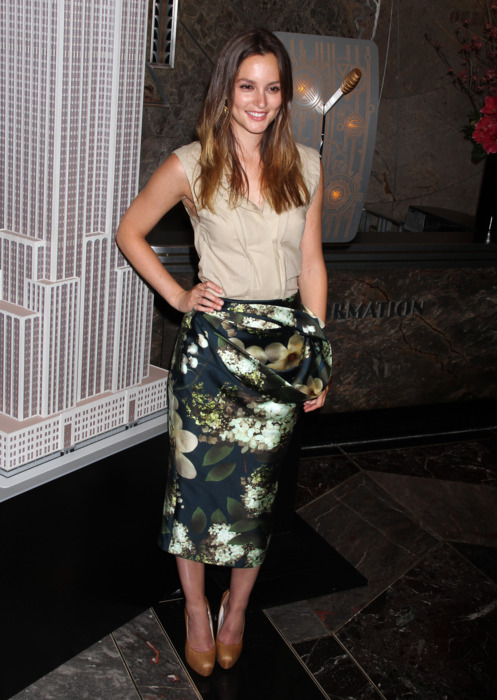 Later on, she joined Vera Wang to light up the Empire State Building. The landmark was illuminated in red and white to raise awareness about DKMS, the world's largest bone marrow donor center. With ombre hair, Leighton paired a beige Vera Wang Fall/Winter 2011 sleeveless top with a body-lengthening Vera Wang Spring/Summer 2011 floral print skirt. Toffee-coloured Brian Atwood "Debra" slingbacks completed her outfit.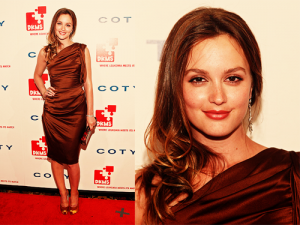 FINALLY – yes, this is all in one day – she attended the DKMS Gala in a Vera Wang Pre-Fall 2011 dress, Cathy Waterman Diamond Leaf Drop Earrings, and the same Brian Atwood heels. Let's hope she had today off.