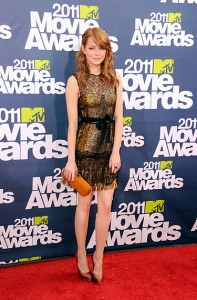 Almost every attendee of last night's MTV Movie Awards looked spectacular. "Spiderman" actress Emma Stone was my top rated, giving the first red carpet look from Bottega Veneta's Fall/Winter 2011 collection. She paired her lace-overlayed, citrus dress with with orange, satin Casadei pumps and a Bottega Veneta clutch to match.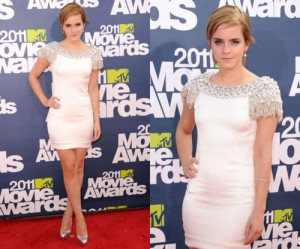 Emma Watson jumped over the pond to wear a white silk mini from Marchesa. The details – soft cap sleeves and a hand embroidered neckline – are what really stands out, to me. Oh, and her Brian Atwood 'Maniac' pumps.
Wait, wait. Balmain never loans out pieces, yet we have Mila Kunis here in both a draped black top and embellished skirt from their Fall/Winter 2011 collection? How peculiar. (And hilarious, as the styling is heads above Snejana and Joan's, no?)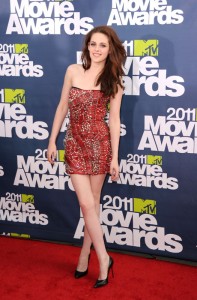 CONSPIRACY, KRISTEN STEWART. Another Balmain dress? This time a safety-pinned red leather dress with stars and studs from Spring/Summer 2011. No-one else could have worn this like Kristen. She epitomizes the brand; young, beautiful, and perma-grunge glam from head to toe.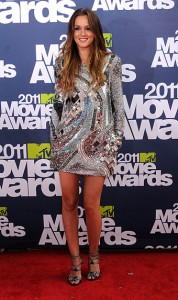 It's official, Balmain has taken over. Their third and final dress from the MTV Movie Awards is Leighton Meester's  mirrored, silver minidress from the Fall/Winter 2011 collection. The beading, bedazzling, and black Pierre Hardy sandals are bomb. Her new ombre-er, blonder hair also gives her a perfect glow.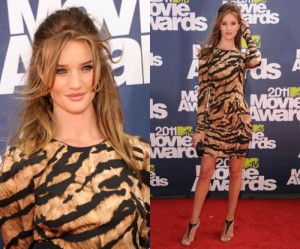 Yes! I've never been so happy to see a Dolce and Gabbana dress! Rosie Huntington-Whiteley here, in an animal print number from Fall/Winter 2011. Rosie is the queen of Smize, is she not? Her sexy accessories consisted of tri-colour patent 'Lancia' wedges from Sergio Rossi and a black clutch by Ferragamo.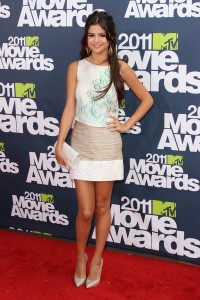 Selena Gomez – unfortunately more famous/hated for being Justin Bieber's girlfriend than anything else – looked radiant in a Spring/Summer 2011 dress from Giambattista Valli. The silk top has a photoprint of the mouldings at the Petit Trianon at Versailles, and leads down to ruched, two-tone silk skirt with white silk band. She has hit the incredibly sophisticated nail on the head.