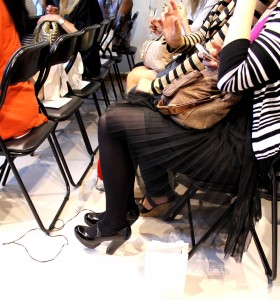 After five years of business, last week marked the beginning of Fashion Business Club's new reign as "The Industry". Though it has been fully rebranded, the purpose remains the same: a members only group of industry insiders with networking on the mind.


What better way to kick off the first meeting than with Rebekah Roy (fashion stylist who has worked with everyone from Erin O'Connor to Kate Moss) interviewing super-songstress Kate Nash (who showed up in my dream pair of Terry de Havilland heels).
During the meeting, Kate spoke not only about her style, but about the overall perception and image of women in the music industry. With packaged pop stars usually 'forced' to look a certain way, Nash spoke of the frustration that lies with younger girls telling her that they can't be a popstar without (a false notion of) beauty. The London-raised musician isn't interested in the exploitation of her sexuality, and thankfully experiences a sort of entitlement to dress the way her mood steers her because of a sexist reality: she is a woman who writes her own music.


It was an intriguing and inspiring way to kick off the new era of The Industry. You will be able to see the interview next week, exclusively, on Harper's Bazaar UK.