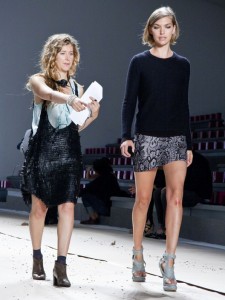 Apparently, before Arizona Muse was able to walk in the Vera Wang show, she had fainted backstage. In the pre-show run-through she was sporting a bloody knee which was also visible as she closed the show in a gorgeous silk print gown. I hope everything is OK, Fashion Week is dangerous (!), another model was also said to have had a seizure backstage at Suno.

Vogue's Mommy is opening a college. The Condé Nast College of Fashion & Design will offer students a year-long Vogue fashion foundation course and 10-week intensive courses. Susie Forbes, editor of Easy Living, will serve as principal at the fashion-forward university. SIGN ME UP. Imagine the class photo.

The First Lady, Mrs. Michelle Obama, hosted a lunch for winners of the National Design Awards. Jason Wu and Prabal Gurung – labels of Obama's adoration – were amongst the honorable mentions, while fashion designer J. Mendel took the cake for his exceptional work in the fashion industry.

Ralph Lauren will be the sole advertiser on the New York Times iPad App for the entirety of September, as they have bought out all six ad spaces (the first time for any company!). The app's users can tour the designer's car collection in Paris and stream exclusive fashion shows.

Sarah Jessica Parker has finally made a statement – to Vogue UK – to explain the decision to leave her role as Chief Creative Officer at Halston:

"Really the business was being taken in a direction I wasn't interested in pursuing. That's why Harvey [Weinstein] and I decided to leave the company. I don't regret my time there. I feel honoured to have worked there – even if only for a brief time. Halston was an amazing experience, and I'm really proud of what I got to do there and of the people I got to work with."
Lindsay Lohan lost her marbles at last night's Paper and Nine West party after a week of aggressive Fashion Week behavior (throwing drinks, elbowing random women, etc). She was harassing photographers and called a reporter a See-You-Next-Tuesday for no good reason whatsoever.

Remember Nancy Upton? Well, she ended up winning American Apparel's "Next BIG Thing" contest, and the retailer seriously wasn't happy (to the point where they released the statement below). The Consumerist sums it up well.

It's a shame that your project attempts to discredit the positive intentions of our challenge based on your personal distaste for our use of light-hearted language, and that "bootylicous" was too much for you to handle. While we may be a bit TOO inspired by Beyoncé, and do have a tendency to occasionally go pun-crazy, we try not to take ourselves too seriously around here. I wonder if you had taken just a moment to imagine that this campaign could actually be well intentioned, and that my team and I are not out to offend and insult women, would you have still behaved in the same way, mocking the confident and excited participants who put themselves out there? Maybe you'll find it interesting that in addition to simply responding to customer demand and feedback, when you're a vertically-integrated company, actual jobs are created from new size additions. In this case, for the XL women who will model them, industrial workers that make them, retail employees that sell them and beyond. That's the amazing reality of American Apparel's business…
That said, we realize that we are in no way perfect and that we're still learning. We want to do better or differently in many areas, and we are actively working on them every day. You're literally witnessing a transparent, sincere, innovative, creative company go through puberty in the spotlight of modern media. It's not easy!

Oh — and regarding winning the contest, while you were clearly the popular choice, we have decided to award the prizes to other contestants that we feel truly exemplify the idea of beauty inside and out, and whom we will be proud to have representing our company.
Yves Carcelle, the current CEO of LVMH, is leaving his position to become president of the corporation's forthcoming art museum, "Fondation Louis-Vuitton", which will be opening in 2013. He will be replaced by Jordi Constans, who currently runs the ship at French food brand Danone (yep, like the yogurt).