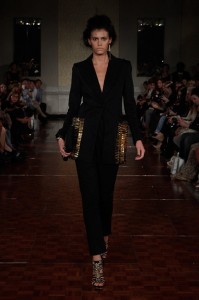 Jasper Garvida is a Philipino-born fashion designer who graduated from Central St Martins in 2004 with rave reviews over a beautiful first collection. The talented man then went on to win Project Catwalk in 2008, after which he created a label which has showcased in Vogue, Grazia, and has earned him a chic celebrity following including the likes of Liz Hurley and Cheryl Cole. Before debuting his latest collection at the Bloomsbury Hotel during London Fashion Week, we had a little backstage chat!
– So Jasper, talk to me about your newest collection you're showing today! Your favourite piece, the feel of the show, your inspirations for Spring/Summer 2012. All that jazz!
– My inspirations for this show are of a woman called Diana Vreeland [LL note: the noted fashion editor!], old photos from the 1940s to 1960s, and Frantisek Kupka's painting, 'Autour d'un Point'. The feel of the show is sort of the new black and white. It symbolises beginnings and ends because it's a new chapter in my life.
In my flat in Paris I actually painted the walls black and my furniture white so to live the idea and immerse myself into it completely. The concept symbolises purity and starting afresh. It's a new feminine silhouette and I suppose 'the new Jasper'. My favourite piece is the first one of the show, from the Bridal collection!
– OK, I'll keep a look out for that one! How are you coping with London Fashion Week and being in the limelight?
– I feel privileged. It's stressful because I'm a perfectionist so I'm never truly happy…just 100% content. I do strive to push myself, not only for me but for my team, too.
I do love London, I moved here at the age of 19, which was scary, but I knew I would regret it if I never tried. London embraced, accepted and recognised me. Being part of this industry has taught me to be strong. Doing interviews would have terrified me before, but talking to people is like free therapy! I used to find it hard to open up but talking is like exhaling now. If I hadn't done this I would still be the shy retiring type like I was 6 years ago.
– Have you always wanted to go into fashion?
– Secretly, yes! I couldn't live without it. When I was younger I wanted to be a doctor. I'm from a large Filipino family, I have 6 siblings, 3 of each [sex], all of which now have professional jobs and I'm the youngest.
My parents really emphasised education when we were growing up…they shaped me. They weren't too sure about fashion at first because it's not a steady career, but since I graduated they've seen my newspaper clippings and are beginning to understand my success.
– What are your plans after this show and this collection?
– Well I've got an exhibition in Paris, next. Well, before that, it's the Managing Director of the line's wedding this Sunday and I need to finish her dress! There is a menswear line in the pipeline and a few collaborations are being discussed…but I don't want to jinx it so that's all I'm saying!
– And finally, seperate from your line, how would you describe your personal style?
– As I get older it gets more minimal, less cluttered. I don't have time for clothes. They're a necessity for me so something comfortable. In the last 10 years my style probably hasn't changed at all! Simplicity and function are the main points.
Thank you, Jasper! Your collection was absolutely beautiful.