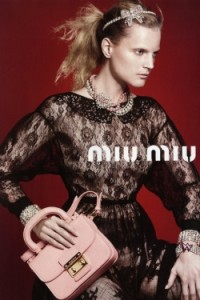 Looking good, Guinevere van Seenus! As you can probably tell, the 'aged' model has replaced 14-year-old actress Hailee Steinfeld as the face of Miu Miu. The upcoming resort ads were styled by Joe McKenna and lensed by David Sims.

Following in the footsteps of Giambattista Valli, Matthew Williamson, and Karl Lagerfeld, Macy's has just tapped Doo-Ri Chung to be their next collaborator in the masstige market. His line will be launched on February 15th, and will hopefully be filled with his incredibly flattering cuts! (Trench coats, please, please, please).

In the past week, stock in Ugg boots has fallen an enormous 39%, with Crocs lagging not too far behind.

Tom Ford's documentary, Tom Ford: Visionaries, airs tonight on OWN (nice job, Oprah), and looks as though it will finally offer an intimate, rare look at the fashion plate's creative and personal processes.

Remember Karl Lagerfeld's muse, Baptiste Giabiconi? Well, he is now a contestant on the French version of Dancing With The Stars and is often seen in body glitter. We can only hope Uncle Karl ends up in the audience at some point.

France's First Lady, model/actress/singer Carla Bruni, just gave birth to her first child with President Nicolas Sarkozy at 43 years old. She was born at the Clinique de la Muette and her name is Giulia – congratulations, you two!

Now she is presumably finished with her role as the face of beauty company Mark, actress Ashley Greene has just been announced as the new face of DKNY and DKNY Jeans. Look forward to seeing the beautiful brunette in the brand's Spring/Summer 2012 ad campaigns.

This has to be the greatest piece of marketing, ever. Rico/Rick Genest (aka Zombie Boy) paired up with cosmetics company Dermablend to create a video which covers his entire tattooed boy in 'new skin', and effectively proves their Leg and Body Cover to be the best concealer in the world. Their "Beyond The Cover" video campaign is the greatest thing my dark circles have ever seen.