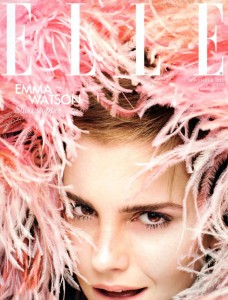 So, it's definitely more feathers than fashion, but I am loving Emma Watson on the cover of Elle UK'S November issue. The sherbet-coloured cover is unconvential, abnormally cropped and was shot by Rankin. A cover after my own heart! What do you think?

Next collaboration with Target? It's Jason Wu!

Yesterday, @TargetStyle tweeted: "Who is the next #TargetDesigner? Get your sleuthing gear on, we're about to share some clues."

Then, "#TargetDesigner Clue 1: the new @TargetStyle designer began sketching the future of fashion at 5 years old." (Any Wu fan would know he designed and sewed doll clothes as a child!)
Then, the second clue: "#TargetDesigner Clue 2: A beautiful visual… could it be from the next collection? tgt.bz/6016RVb8″

No more clues needed! Placing all my bets on Jason Wu.

Remember when America's Next Top Model castoff Fatima Siad walked the Dries van Noten runway? (Come on, it was only two days ago…) Well, the gorgeous Somalian just joined the likes of Arizona Muse and Kasia Struss as a model for Hermes' Spring/Summer 2012 collection, as well! WERK.

The French government is honouring Glenda Bailey, the fanastic editor from Harper's Bazaar, with a prestigious award given to artists who strive to strengthen the arts in France, the Chevalier of the Ordre des Arts et des Lettres.