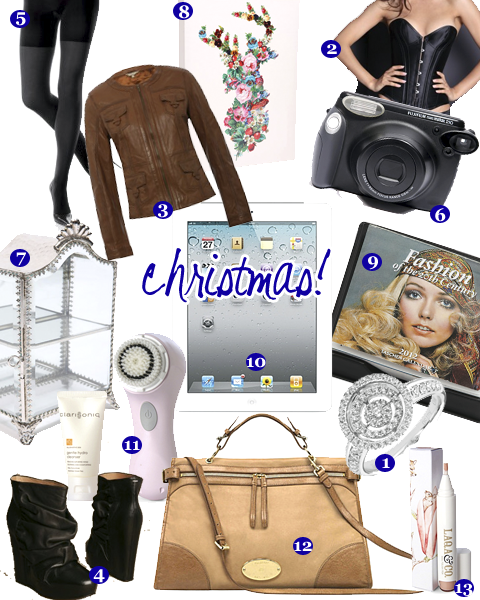 Every November since I was about seven years old, I have created an elaborate Christmas wish list. To be honest, it is probably one of my favourite 'Christmas activities', even if I don't get a single item off of it!
What is on your list this year?
1. Mazal Diamond / Micro-Set Diamond Circle Ring in 18k Gold
2. Agent Provocateur / Classic Corset
3. M&Co / Tan leather jacket
4. LN-CC / Maison Martin Margiela 22 Ruched Trunk Boots
5. MyTights / The best tights in the world
6. Urban Outfitters / Fujifilm Instax Wide 210 Camera & Film Set
7. Urban Outfitters / Two-Shelf Jewellery Box
8. Urban Outfitters / Deer Collage Canvas
9. Liberty London / Taschen Fashion 2012 Desk Diary
10. Selfridges / Apple iPad 2 with Wi-Fi + 3G 32GB white
11. Selfridges / Clarisonic Mia Sonic Skin Cleansing System
12. Selfridges / Mulberry Taylor oversized satchel matte in Deer Brown (or a bright colour!)
13. Selfridges / Laqa & Co nail polish pen in Birthday Suit
14. A kickass lens that works with the Canon 550D and lets me take photos like this / Not pictured.
15. A donation to someone who really needs it / Not pictured.