Excuse me while I wipe away some salty, embarrassing tears. Beyoncé's latest music video is one of my forever favourites. "I Was Here (Live at Roseland)" is essentially a montage of important and meaningful experiences in her life, and we even get to catch a look at Beyonce in her wedding dress (made by her mom, Tina Knowles) for the first time in almost four years. Watch…or I'll cry again.




Thanks to Missoni, I'm sure, Target's third-quarter sales are up 3.4 percent.

For London Fashion Week Autumn/Winter 2012, the official sponsor is changing from Canon to Vodafone UK.

Though it comes as no surprise, it is still a little sad to hear that Claridge's (the London hotel) has let go of John Galliano in regards to his long-time affair designing their annual Christmas decorations. Thankfully, we can still look forward to something spectacular, as the job has been handed over to Lanvin's Alber Elbaz. Anyone else hoping he shows up in a Santa suit for the press reveal?

Moda Operandi have wooed their way into another big-hitter's staff resources! This week, Ashley Bryan (head of marketing and sales for Net-a-Porter in the US) has announced an immediate move to take on the role of Moda Operandi's chief marketing officer. Fun fact: she is also the daughter of Anna Wintour's longtime boyfriend, communications executive Shelby Bryan.

Costello Tagliapietra is going to release a diffusion line! For Spring/Summer 2012, new line "C&T" will offer 13 dresses that retail for $298 a piece.

This has made my weekend! After months of waiting to see something from the film adaptation of "The Great Gatsby", we have a photo of Australian model Gemma Ward on the set! Gemma plays Catherine – the sister of Myrtle Wilson (Isla Fisher) – and looks picture perfect in pin curls and full '20s attire. The costumes are going to be out of this world; I can't wait to see the ensembles of Carey Mulligan, Leonardo DiCaprio, and Tobey Maguire, as well.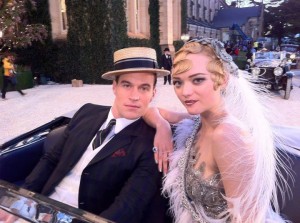 Lauren Bush and David Lauren's wedding photos: revealed! Major, vintage-esque swoons over at Vogue.