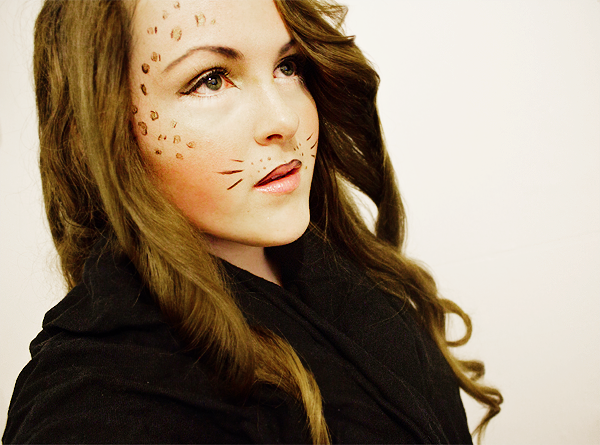 Halloween may be my favourite holiday but I am a prize-winning procrastinator when it comes to costume planning. Sure, the Halloween playlists and parties are planned weeks in advance but I have a chronic knack for deciding on an outfit at the very last minute.
As a make-up artist and fashion stylist, I have a certain advantage when the inevitability of 'one hour til party time' approaches. That is why, this year, I thought I would share my all-time favourite easy look with you: the leopard costume. Using make-up and fashion (black anything) that you are likely to already have tucked away, this twenty minute costume is much more impressive than a bedsheet ghost.
Get the Look:
1. Throw a golden eyeshadow base on. Opt for glitter if you have it. It's Halloween, after all! (Try NARS Night Collection in Night Star.)
2. Trace white eyeshadow along your lower lash line with a wet brush (this will help it stay put). (Try Lord & Berry in White Moon.)
3. Blend a medium brown eyeshadow in the crease of your eye to create (or further enhance) a round eye shape.
4. Use a liquid eyeliner to line your top lashline, extending a little bit past the inner corner of your eye. This creates the 'cat' shape.
5. Use a blush brush to dust a little bit of yellow-gold highlighter or eyeshadow in a C-shape around your eye.
6. Use an eyeshadow or a cream eyeshadow to apply medium-large brown spots over the C-shape. (Try Illamasqua Liquid Metal eye cream.)
7. Loosely line the spots with black eyeliner. This should mimic a leopard's spots.
8. Add whiskers and whisker spots with black eyeliner.
9. Line the top of your lipline with eyeliner.
Happy Halloween!