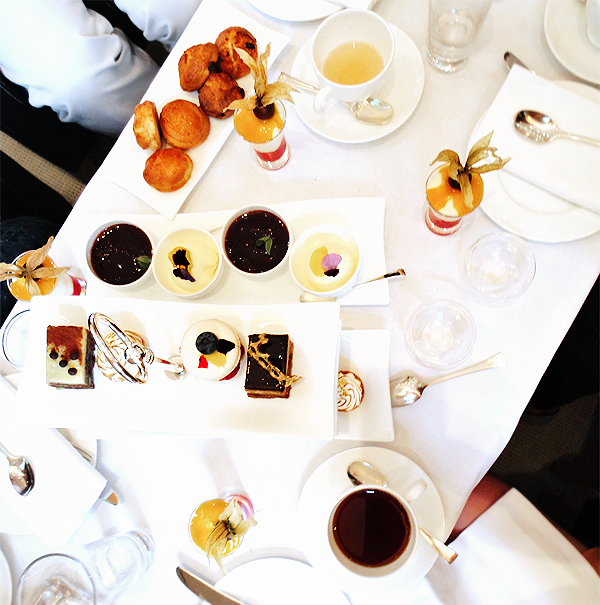 Thanks to Ametsa's newly Michelin-starred credentials, its parent hotel – The Halkin – has been getting a lot of attention this month.
It's time for a bit more.
Presenting…Afternoon Tea in The Halkin Bar! The Halkin's latest tea menu is all that a classic tea should be, is peppered with delicious flourishes, and served alongside a selection of palate-dazzling JING teas (go for the jasmine pearl).
Sandwiches are large and in charge (read: if you're taking a dude, he'll be more than pleased); King prawns with watercress and cocktail dressing, cornfed Chicken breast with tumeric and spring onion, baby Cucumber with cream cheese and chives, and – the hero – Scottish smoked salmon with caviar and spicy peppers.
When time came to head into sweeter territory, sigh, the scones were a slight disappointment. Though the scones themselves were served slightly stale, the quick breads were saved when paired with small pots of honey-infused strawberry jam and clotted cream topped with pansy petals.
The tiered treats, however, were as dressed to impress as the photos suggest. We've got an almond and cocoa sponge cake (aka opera cake) soaked in coffee and chocolate mousse, a lemon meringue tartlet, a pistachio brownie with white chocolate and madagascan vanilla cream, then – GASP – a passionfruit macaron filled with gossamer-light meringue and fresh raspberries. Though bites of each allowed me no room for the final beaker of mango, strawberry and mascarpone brew, I could have been convinced to shove it in my purse for later. Maybe I did.
The Halkin Afternoon Tea is priced at £28 per person, £38 with a glass of Champagne (Louis Roederer Brut Premier), and is available from 3-5pm daily.