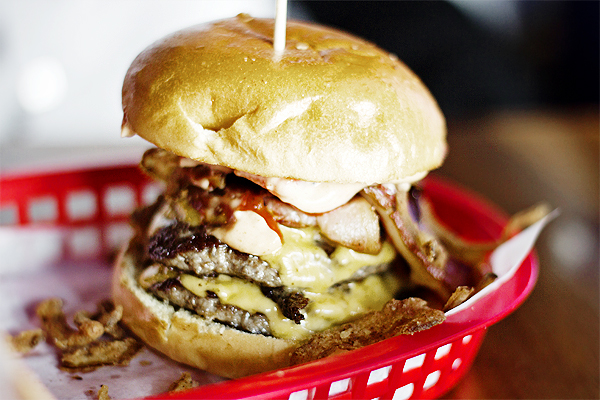 Sometimes I really hate reviewing food.
Not that I'm ungrateful (far from it!) – I simply have a problem sitting down to start blogging after a tough workout and healthy breakfast, only to develop an insane craving for a dirty-as-they-come burger.
I think my mouth is throbbing. And I'm blaming Almost Famous.
This restaurant is so wrapped up in burger hype that I felt it be sacrilege not to order one…or two…with loads of fries…and crack wings….and cocktails. Ahem.
Though almost all of the burgers on Almost Famous' menu start with a double cheeseburger base, each and every one is met with a flurry of – slightly insane – toppings. My best friend couldn't take his eyes off of the River Phoenix; the double topped with bacon, BBQ fried onions, frazzles, baconnaise, chipotle ketchup, BBQ sass, and fresh chilli. With the trifecta of bacon (and bacon-esque) toppings on offer, it sounds much more sickly than it actually is. Somehow, the high-low mix of 'ingredients' like fresh chilli and Frazzles worked.
Jumping off the deep end, I went for what I was most intimidated by: the super saucy Baddaboom. While this burger was topped with just one slice of bacon, the other ingredients (chorizo, onions, marinara, famous sauce, frenchs, parmesan, and chilli) maxxed out all available space inside the garlic butter brioche. Beautifully so. The chilli and chorizo added another dimension to what I'm sure is a disgustingly calorific food mountain.
Deciding to share some 'Winning' fries (heavily house seasoned skin-on and sweet potato fries) in between bites of their 'Crack Wings', I was in Americana heaven. The wings come in 'Suicide' (HOT!), 'Redneck' (BBQ) and the soy-based 'Pho-king amazing' sauce. I went for the latter, and fell in love with the asian sensation (I'm positive the sauce had some sriracha in it).
The only thing I didn't enjoy about Almost Famous was ordering at the bar. While I don't expect much 'service' from any restaurant I go to, I have had low-key table service at restaurants/cafes that cost less than half as much. Waiting ten minutes to order food, another few minutes for cocktails to be made, and then having to carry them – and a purse – back to the table? It prevented me from ordering more drinks. It's a disservice to an otherwise awesome establishment.
Note: Like all good burger joints in this day and age, Almost Famous has a no booking policy that means two hour waits are not uncommon on a Friday or Saturday. If you can't hack a queue, don't think you need to write it off. Lunchtimes are still buzzy (but queueless), and a Thursday evening visit will keep you in a happy food coma until the weekend arrives.