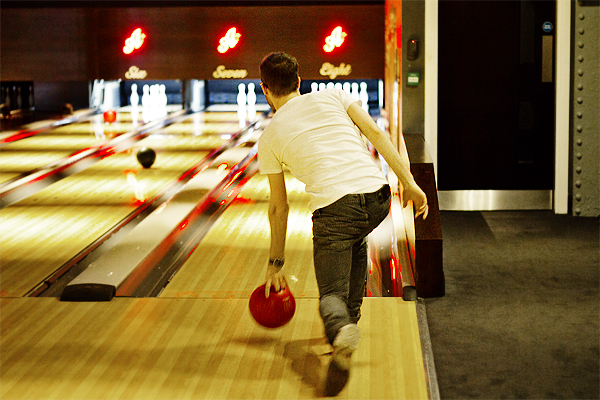 On my very first trip to Manchester after moving 'Up North', All Star Lanes caught my eye. Situated just off of Deansgate in The Great Northern Warehouse, the building simply can't escape your attention.
Last weekend, The Manfriend and I finally booked in for date night (avec balls, burgers, and bowling shoes).
All Star Lanes is rather slick from the second you step through the door. The open plan bowling alley-cum-restaurant has also done well to become the epitome of an 'all-American' establishment, all the way down to the lines of Big Red gum decorating the bowling counter.
Intrigued by the amount of mega-heeled platforms lining the wall of bowling shoe swaps, we changed into our complimentary kicks and shuffled off towards our lane.
As far as bowling goes, I'm nothing to blog about (…yes, I lost. Yes, I got a gutter ball or five) but I loved the experience nonetheless. Each of their eight lanes are manned by waiters, so whether you and your best mates want to get silly on Blue Moon en masse (hello, lane seven!) or you believe you can manage a full cookie-crumbled milkshake before dinner (guess who), there is something for everyone.
Defeated and less hungry than I would have liked to have been, I changed out of my bowling shoes and joined the winning party in the restaurant for some a starter, a main, and a hit of caffeine.
My favourite part of the entire meal (and the immediate apple of my menu-reading eye) was the Smoked Mac & Cheese Croquettes with roast onion and balsamic dip. Between this genius comfort food creation and a nibble of one of The Manfriend's crispy and ridiculously saucy BBQ chicken wings, I would have been happy to end the meal there.
And perhaps should have. This is not to say that anything was wrong with my main (buttermilk fried chicken and sweet potato fries), I simply had no appetite left for it after the aforementioned milkshake and starter.
You guys, I even refused a bite of a brioche-bunned Monterey Jack cheeseburger from the other side of the table. THIS IS NOT NORMAL.
Guiltily leaving more than half of each plate behind, I have since vowed to return at a later date and refuse all milkshake temptations until all food has been given a fair change (I am kicking myself for missing out on their warm cornbread with jalapeño salsa, nacho cheese and chilli jam – this is Indiana ON A PLATE).
My vote? Go. Eat. Play. Stay 'til 2am on Saturdays, if you dare (a little drunk bowling couldn't hurt, eh?).