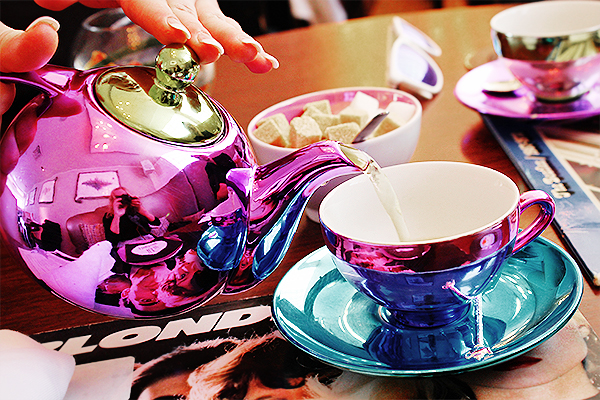 For those of you who love afternoon tea with a theme, the Spring Rocks afternoon tea at K West Hotel & Spa is well overdue a visit. Launched over Easer, the tea gained fast infamousity by turning our nation's beloved Creme Egg into a Creme Egg Burger.
Stocks willing, this is still one place you can get your Creme Egg fix while the shops run dry.
Settling into Studio Kitchen (K West's informal but gorgeous eatery), my hungry guest and I swooned over the table settings (major points for Blondie and Beatles vinyl covers as placemats) before ordering cocktails.
It's a rock 'n' roll themed tea, guys. Totally necessary.
Shortly thereafter, the ultraviolet tiers of treats arrived: perfect little hot dogs, savoury sliders, mini Hot Cross Buns, quail egg Scotch Eggs, strawberry tarts, scones, pure almond macarons, salmon and cream cheese fingers…even sprinkle-topped chocolate pops.
Not forgetting the Creme Egg Burgers, of course. Each burger was made from a sweet brioche bun dipped in white chocolate and gooey Creme Egg filling with mascarpone and strawberry jelly. Sprinkled with hundreds and thousands, to boot. I feel mostly impartial towards Creme Eggs (I know! I know! I swear I'm British!) but adored the eclair-esque results of the chefs' innovative imagination.