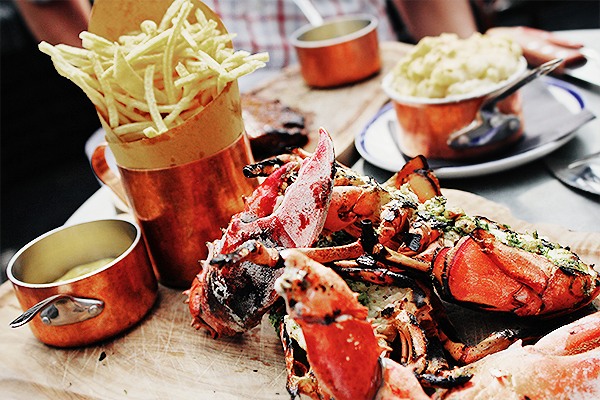 My Snapchat from a less-than-casual lunch at West ThirtySix was shared and seen by over 120,000 Londoners in less than 24 hours.
A modern day seal of approval for a delightful little retro townhouse.
I had been hearings bits and bobs about West ThirtySix (West 36/W36) for a while but only in regards to its drinking culture. While West Londoners have been flocking to their Chesterfields to sip the evenings away, the brasserie's food has taken an accidental backseat.
Out of curiosity, I booked in for lunch.
On the second of four floors my best guy friend and I settled in to their covered terrace (read: greenhouse) to enjoy the surprise sunshine and – hopefully – the food.
Sipping a peach and quince bellini (THE ONE) while side-eyeing a Pomeranian nibbling a salad on the other side of the terrace, I threw my light lunchtime fantasies out the window and decided 'go big' before going home.
We kicked our exceptionally long lunch off by sharing chargrilled squid (scattered through peas & chilli) and fall-off-the-bone smoked maple & chipotle chicken wings.
Next, the Snapchat-worthy mains; for the gentleman, an organic Hereford fillet of beef (aged for 39 days) with a side of molten mac 'n' cheese and a Full Marks (their deliciously-spiced Manhattan). For me, an enormous wooden slate of fresh lobster with shoestring fries and garlic & hazelnut butter.
Because how often does a lady get to enjoy lobster and sunshine in Westbourne Grove?
Lobster-wise, the majority of the flesh was prepared to be scoopable but I had to get all hashtag-#FloridaGirl on the claws.
After entering a food coma, Mr. Neverfull somehow coerced me into dessert. I immediately assumed this would be a regret but the second the pink champagne jelly-topped creme brulee arrived I was forever grateful. Alongside their 'chocolate bar' (a cake-like slice of lacquered peanut crunch chocolate served with salted ice cream), the creme brulee made West 36 a dessert place for non-dessert people.
Boy, do I need some pink champagne jelly right now…